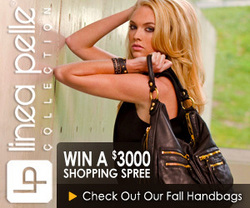 Be A Celebrity (paparazzi not included)
Los Angeles, CA (PRWEB) September 22, 2009
Linea Pelle is proud to present the return of its popular designer handbags, the Dylan Collection, in beautiful new colors and silhouettes for Fall of 2009.
Linea Pelle Collection's Dylan handbag line has been the company's best selling designer handbag line for many years. In addition to Linea Pelle's most famous signature slouchy shape, vintage wash, and hand colored Italian leather and artisan craftsmanship, Dylan bags have a whole new Fall makeover. The new Dylan bags feature hot new fall colors such as teak, hibiscus, parrot and sand in amazing new body styles. The Dylan Zip Tote is a long time favorite and great travel bag, with three pockets on the front and three separate sections in the handbag. Vanessa Hudgens, Marcia Cross, Paris Hilton, Ana Faris, Denise Richards, Hayden Panettiere, Rihanna, Lauren Conrad Audrina Patridge, and Hilary Duff have all been spotted wearing these popular Dylan bags. The Dylan Folding Clutch featuring an over the shoulder messenger style is the perfect accessory for a "ladies' night" out on the town with friends.
Accompanying the new handbags fall line, Line Pelle also launched an exciting online contest for a $3,000 shopping extravaganza giveaway. Participants only need to enter their email address. Prizes are given away every day and include Linea Pelle bracelets, wallets, and signature belts. LP's "Be A Celebrity (paparazzi not included)" event started September 1st and continues through October 31st, 2009. Click on link to visit LP Online Contest.
About the company
Linea Pelle is internationally well-known as the premiere designer belt manufacturer offering casual luxury handbags and belts. Linea Pelle also offers chic casual handbags and small leather goods which have been receiving accolades from the fashion industry and best stores globally. LP vintage belts and handbags are hand crafted from washed Italian leathers which result in the softest hand feel with a unique vintage look. Linea Pelle handbags are well known for their distinct seasonal color palettes and use of solid brass hardware for quality and durability in myriad finishes.
Linea Pelle products are sold worldwide and have become a favorite among Hollywood, stylists and trend setters alike.
Linea Pelle's famous soft, slouchy shaped handbags are meant for casual, everyday wear yet their intricate little details and high quality leather create a unique and gorgeous distinctive vintage look. Linea Pelle Collection is sold throughout the world and has become a favorite Celebrity Fashion among young Hollywood celebrities such as Jessica Simpson, Lauren Conrad, Paris Hilton, Tara Reid, Rihanna, Katherine Heigl, and Lindsay Lohan just to name a few.
Linea Pelle is also well-known for its high quality standards in hand-crafted Italian designer belts and there is a large collection of leather accessories for men and women. Linea Pelle adds different characteristics to each design so no two belts are exactly the same! Hand-crafted brass hardware and novelty detailing in each belt give a distinctive, unique look to every piece. Whether you're a jean and T-shirt kind of person or one who prefers a sleeker style of dress, you can't go wrong with leather women's belts or men's belts from Linea Pelle!
The company provides a full e-Commerce website LPCollection.com and several retail stores in the United States. You can also follow Linea Pelle on Twitter or Linea Pelle on Facebook.
###