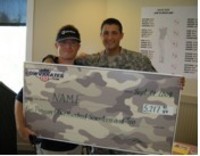 I am so thankful for everything NAMF has done for my family.
American Fork, UT (PRWEB) September 21, 2009
Military Families in Utah and across the nation received a major boost through a charity golf tournament on September 14th at Valley View Golf Course.
The tournament host, LowVARates.com, donated nearly $5,500 to the nonprofit military organization, National Advocates for military families (NAMF). The tournament featured over 120 participants, all supporting military families with deployed spouses.
The golf tournament was represented by all four branches of the military and highlighted many soldiers dressed in fatigues. The post tournament festivities include a check ceremony, (presented to soldier Bryce Anderson), and an auction and raffle. The Utah Jazz, Brigham Young University, University of Utah and many other organizations donated items for the auction to help raise money.
The Layton Mayor, Steve Curtis, attended the event to help support the cause and raise awareness for the nonprofit organization, National Advocates for Military Families.
"I wanted to support this event to express solidarity between the city of Layton and the military," Curtis said. "They do so much to preserve the quality of life we all enjoy."
National Advocates for Military Families is dedicated to providing alarm systems to military families with deployed spouses. The organization helps military families receive peace of mind while spouses are away.
NAMF has already helped hundreds of families receive their no-cost alarm system. Military wife, Kindall I., just received her no-cost alarm system and understands life can be challenging with a deployed husband.
"There are so many things that I worry about while my husband is gone, so it is nice to feel extra safe with the security alarm installed," Kindall I. said. "I am so thankful for everything NAMF has done for my family."
Kindall's husband was deployed on June 2, 2009 to Afghanistan and will serve there for one year. The money from the tournament will help thousands of families nationwide just like the Kindall's.
According to Pentagon data, since September 11, 2001, well over 1 million soldiers nationwide have been deployed. The soldiers leave to serve our country and their loved ones are left with no protection. NAMF's ultimate goal is to provide protection to every military family with a deployed spouse.
The tournament host and owner of LowVARates.com, Eric Kandell, is a major supporter of National Advocates for military families and hopes the charity golf tournament will give the nonprofit organization a boost.
"We want the charity golf tournament to provide awareness for the amazing things NAMF can do," Kandell said. "All of the money raised in the tournament goes straight to helping military families with deployed spouses."
About LowVARates.com
For the past 20 years LowVARates.com has been dedicated to serving veteran homeowners. We specialize in providing VA loans to qualified veterans for mortgage purchases and refinances. These VA home loans provide lower interest rates and monthly payments than other traditional loans. VA loans are currently the only program left that allows no-money-down loans providing a secure mortgage option guaranteed by the Federal Government. Our professional staff and loan officers will assist you to lock in low interest rates and take advantage of the unique opportunity provided through a VA loan.
About National Advocates For Military Families
We are a nonprofit organization started by soldiers for soldiers. Our mission is to advocate for military families nationwide who are left behind with no sense of security and problems with peace of mind while their loved one is away. Our goal is to educate Americans not only about the sacrifices these soldiers make, but also the sacrifices their families make as well.
###