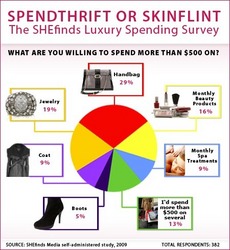 These results have implications for the way we position our editorial content
New York, NY (PRWEB) September 26, 2009
SheFinds Media released a survey of subscribers' luxury spending habits today, in which 763 respondents revealed what item - if any - they'd be most likely to buy for over $500 in the current, cash-strapped economy.
The options in the survey included women's fashion and pampering items, such as handbags, monthly beauty products, spa treatments, trendy boots, jewelry and coats.
Respondents said they would spend over $500 on any of the fashion or beauty items listed.
The survey also found that:

Fashion handbags were the most popular luxury item respondents were willing to buy for over $500, with 29% of respondents.
Fewest respondents - 5% - said they would buy boots at that price.
13% of respondents said they would buy $500 items from more than one category.
The results of the survey can be found at this link.
SheFinds Media operates websites that help make shopping online quick and fun for stylish, time-pressed women. SheFinds.com is a fashion blog that features editorial fashion content and buying guides along with sale and discount alerts.
"These results have implications for the way we position our editorial content," said Michelle Madhok, founder and CEO of SheFinds Media. "There's certainly still a luxury shopper out there, but she's particular about what she'll spend on."
"For a majority of their purchases, women now want great items for less," Madhok said. "We've had success catering to that need with sample sale and affordable fashion features, and will continue to mix those in with our luxury content."
About SheFinds Media
SheFinds Media is an online media company that publishes editorial websites about shopping for busy, professional women. With core properties SheFinds.com and MomFinds.com, the company delivers the best products of the web with daily finds and consumer buying guides.
###