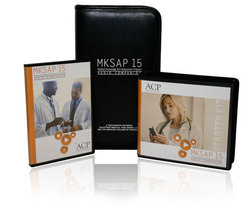 The MKSAP 15 Audio Companion delivers lively and informal dialog, enhancing the MKSAP syllabus which can help physicians fill-in knowledge gaps and thus help in the overall improvement of patient care
Birmingham, AL (PRWEB) September 23, 2009
Oakstone Medical Publishing announces the release of the first section of the MKSAP 15 Audio Companion. Available in compact disc and MP3 audio disc formats, this audio-based product compliments the educational resource physicians have come to depend on with the Medical Knowledge Self Assessment Program (MKSAP) as developed by the American College of Physicians (ACP).
"The MKSAP 15 Audio Companion delivers lively and informal dialog, enhancing the MKSAP syllabus which can help physicians fill-in knowledge gaps and thus help in the overall improvement of patient care," said Dr. Donald Deye, Medical Director for Oakstone Medical Publishing.
The MKSAP 15 Audio Companion compliments the rich information found in the ACP's printed program. The MKSAP 15 Audio Companion includes multiple choice questions, key points, critiques, and expert commentary. Up to 90 AMA PRA Category 1 CreditsTM can be earned from this program.
The Publisher and Senior Vice President for Oakstone Medical Publishing, Dean Celia, said, "The MKSAP 15 Self-Assessment Audio Companion will help physicians and other medical professionals have access to the ACP's latest content in its MKSAP program. Our user community has enthusiastically endorsed the popular mobile formats that are available for this important product. At the same time, they can be assured that all of our MKSAP-related audio products maintain the highest standards for not only the medical content but also clarity and ease-of-use in this audio product."
Oakstone Medical Publishing offers non-biased medical education materials in more than 200 programs across 40 specialties. Available in multi-media formats, the journal review and clinical review products allow medical professionals a convenient option to stay current with the changing face of their field. Oakstone Medical is a division of Oakstone Publishing, a company that excels at providing non-biased continuing education and certification for physicians and dentists, and effective wellness resources and services for organizations interested in encouraging healthy lifestyle choices among their employees. For additional information about our medical products, go to: Oakstone Medical or CMEinfo.
###