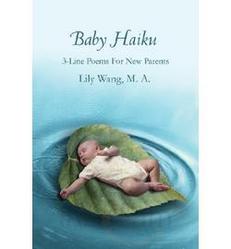 Clovis, CA (PRWEB) September 20, 2009
Turn Parenting Experience into an Empowering Journey with Baby Haiku by Lily Wang
A newborn's arrival in the world can be a frustrating and challenging time for new parents. Trying to understand a baby's wants and needs is often complex, leaving parents exhausted and looking for answers.
Lily Wang has the solution with Baby Haiku, an innovative and powerful book of Haiku poetry perfect for the time-starved new parent. Combining the essence of Eastern and Western poetics, Wang creates an essential tool to help you understand your baby through the simplicity of Haiku.
Wang skillfully revives the role of poetry to delight and instruct. "The true motivation behind this little thin book," Wang said, "is to make a better tomorrow for future generations by honoring what parents are doing today."
Most parents are physically and materially ready for a baby's arrival. But mental preparation is sometimes more difficult to obtain. Wang helps bridge this gap with her inspirational poems that speak deeply to a parent's soul. Parents will learn how to relax and enjoy this special time, achieving a Zen-like existence in their chaotic lives.
Wang helps parents experience the true sense of significance associated with taking care of a baby. With Baby Haiku, parenthood becomes an empowering spiritual journey!
About the Author:
Lily Wang is an award-winning poet and the author of Garden Haiku and Baby Haiku. She received her BA in English from Soochow University in Taipei, Taiwan and earned her MA in English from California State University in Fresno. She has done literature coursework worldwide. She and her husband live with thier two children in Californica.
Baby Haiku: 3-Line Poems for New Parents
Garden Haiku: Raising Your Child with Ancient Wisdom
Available from: http://www.amazon.com, http://www.bn.com, http://www. tower.com
###