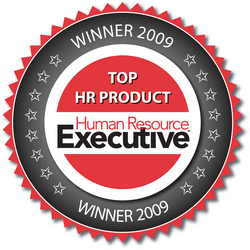 Atlanta, GA (PRWEB) September 21, 2009
PreVisor, the global leader in employment assessments and talent measurement solutions that connect employment decisions to business results, announced today that its Front Line Manager Solution has been named one of the 2009 Top HR Products of the Year by Human Resource Executive® magazine.
With the extended global economic recession continuing to put pressure on organizations, it is more important than ever for talent management teams to make informed decisions about choosing the most effective leaders - those who can do more with less and inspire their people while doing so. PreVisor's Front Line Manager Solution provides objective insights to help decision makers understand the potential of candidates to become effective leaders efficiently and cost effectively through advanced technology, particularly when compared with leadership assessments that are traditionally delivered at a time and resource intensive assessment center.
The Front Line Manager Solution is an employment assessment administered online, evaluating multiple leader competencies including coaching skills, ability to prioritize, decision-making, thoroughness, and sense of duty. The assessment includes highly engaging and realistic simulations of a manager's email inbox and employee coaching scenarios as well as critical cognitive and personality measures powered by PreVisor's PreView™ Computer Adaptive Testing (CAT) technology. In fact, PreVisor's adaptive personality measure, which enables more precise measurement of personality characteristics critical for success in managerial roles, is the only one of its kind available. It works by adapting the items presented to the candidate according to the personality trait levels and abilities indicated by the candidate's responses to previous questions - resulting in a faster and more accurate measure of critical leader personality traits.
Each year, Human Resource Executive's editors select 10 products as the best of the year based on a series of criteria, including level of innovation, the value the products bring to the HR community and user friendliness. Only those that truly deliver innovation and value to HR professionals are considered for Top HR Product of the Year.
"Human Resource Executive® has been evaluating HR products and conducting this competition for over 20 years. Our goal has always been to identify products and services that clearly offer value to the HR community while demonstrating innovation, and PreVisor's Front Line Manager Solution does just that," explained David Shadovitz, editor-in-chief of Human Resource Executive.
According to Noel Sitzmann, chief executive officer of PreVisor, "We're very proud to accept this award. PreVisor developed the Front Line Manager Solution with input from client research partners who were instrumental in providing real-world feedback. These partners reported consistently positive results drawn by comparing the assessment scores to job performance ratings, which validated the effectiveness of the solution. Industry recognition for an innovative product that was validated in partnership with our clients encourages us to continue our aggressive product R&D."
PreVisor will be presented with the 2009 Top HR Product Award at a special luncheon held on September 30th at the HR Technology Conference and Expo in Chicago. More information and a demo of the Front Line Manager Solution will be available at PreVisor's booth in the Expo hall.
About PreVisor
PreVisor, the leading global provider of on demand employment assessment and talent measurement solutions, helps clients connect employment decisions to business results. Following the rigorous standards of occupational psychology, PreVisor's assessment content accurately predicts on-the-job performance and supports fair hiring practices. PreVisor's solutions help streamline hiring, reduce recruiting and training costs, and improve corporate performance for clients worldwide, including more than 100 of the Fortune 500. http://www.previsor.com
Company Contact:
Donna Lehman
MarketUP, LLC
770-565-7275
###