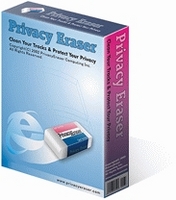 (PRWEB) September 22, 2009
PrivacyEraser Computing has released Privacy Eraser Pro v8.0, a safe, powerful Windows utility that protects Internet privacy by cleaning up all of the internet history, cache, cookies, and other telltale signs. When surf the Internet, people leave information behind on hard drive about what sites they have visited, what documents they have used, what images and movies they have seen, what files they have downloaded, and many other activities they have performed. Privacy Eraser Pro removes this information from their computer, ensuring their privacy, and boosting system performance by eliminating unnecessary files.
With a single click, Privacy Eraser Pro erases the internet history, cache, cookies, URLs that people have visited or typed, autocomplete memory, browser's index.dat files, Windows' swap file, temp folder, run history, search history, open/save history, and recently-used documents.
There are privacy protection tools available that clean hard drive by simply deleting the appropriate files. These deleted files can be easily recovered. By contrast, Privacy Eraser Pro's cleanup meets the US Department of Defense DOD 5220.22-M and National Security Agency clearing and sanitizing standards. Once deleted with Privacy Eraser Pro, the file data is gone forever and cannot be recovered.
New features in v8.0 added support for Windows 7, Mozilla Firefox 3.5.3, Google Chrome 3, Opera 10 and improved Internet Explorer 8 support.
Whether a business person who needs to keep Internet research secret from colleagues and competitors, a teacher who wants to erase students' Internet travels from shared computers, or a home user who wants to maintain privacy and security, Privacy Eraser Pro has the tools that they need.
Privacy Eraser Pro v8.0 runs under Windows 98/ME/NT/2000/XP/2003/Vista/7 32/64bit, requires Internet Explorer 5 or newer, costs $39.95(US) for a single-user license, and may be purchased securely online. A single-user license covers one home computer plus one work computer. The price includes free unlimited lifetime upgrades, and free technical support. The Standard version of Privacy Eraser, without the plugin builder, plugin support, file shredder, drive ops, scheduling options, stealth mode, boss mode, cleaning summary, or Startup manager, is available for $29.95(US).
Since 2002, PrivacyEraser Computing, Inc. is dedicated to providing computer users with the ability to surf the web and use their computer with ease. Privacy Eraser Pro has protected many users, and given them the comfort of complete privacy. For further information, please visit - PrivacyEraser Computing, Inc.
###