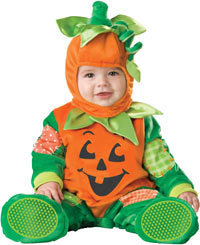 Now is the time of year when people start discussing what their kids are going to be for Halloween and the emphasis on being original and different
Boca Raton, FL (PRWEB) September 29, 2009
They may not be able to trick or treat just yet, but you still want your little one to enjoy their first Halloween experience in an adorable baby Halloween costume. For babies, cute animal costumes often top Halloween trends lists, but for 2009 there is a definite influence on funny and original baby costumes.
"Now is the time of year when people start discussing what their kids are going to be for Halloween and the emphasis on being original and different," says Lauren Halperin, creative director of Baby Lifestyles. "Choosing a humorous costume for your baby says something about your personality and your baby's. Plus you don't want to be at a party with 15 of the same baby costumes."
TV and movies as well as comic book super heroes are also expected to be a huge influence on infant Halloween costumes this year. Batman, Spiderman, X-Men and Star Wars characters are expected to lead the list of top boys costumes. Fairies, princesses and aspiring pop idols will reign supreme for girls costumes. "In this economy parents want to get more than one day's wear out of their children's costumes," says Halperin. "Since toddlers love using their imaginations and playing dress up, parents will see these types of costumes get worn more than once."
Baby Lifestyles has worked with many of the largest online costume retailers to create the most complete baby, infant and toddler costume collection online the Baby Lifestyles Halloween Costume Shop.
Here are some costumes sure to be favorites for this year:
The Baby Clown Fish: No need to find Nemo with this cute fish with attached head and tail.
The Baby Air Freshener: Everyone recognizes the familiar green pine tree air freshener swinging from the rear view mirror. Don't look now but there's a baby pine tree in the fast lane!
Baby Spider-Man: Now baby can dress-up as everyone's favorite neighborhood Spider-Man with this infant costume. This baby Spider-Man costume is a sure to provide some great memories for that first Halloween costume.
The Baby Daffodil: This little blossom is the epitome of innocence of infancy and the sweetness of flowers.
Future Hip Hopper: The Baby Hip Hopper Costume lets baby keep it real for the party! This hip-to-the-beat baby Halloween costume even includes a plush boom box and silver bling.
Baby Pirate Jack Sparrow: Ahoy, matey! It's time to board the ship in this little boy's pirate costume. He'll have a great pretend adventure in this pirate costume!
About Baby Lifestyles
Baby Lifestyles is an Internet magazine and shopping portal for the journey from pregnancy to parenthood. The editorial is tightly focused on fresh and relevant products, beneficial services and styles for the fashionable parent and their trendy children. Smart, modern, sharp and classy, Baby Lifestyles is a hip resource for expectant and new parents.
Media Contact:
Lauren Halperin
Baby Lifestyles
Lauren@BabyLifestyles.com
561-228-4210
###