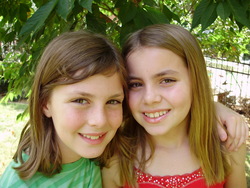 The girls have fast rules about how they want to run their business and I don't get in their way
Alpharetta, GA (PRWEB) September 21, 2009
The Alpharetta company, whose natural based lip balm line geared toward tweens has been featured in more than 200 retail stores nationwide in and Canada has landed one of its products in the swag bags for the 2009 Emmy News and Documentary Awards party.
The 30th annual program, which honors the top news and documentary professionals in the country will be held tonight at Lincoln Center in New York City. Invited guests to the Emmy event and party will receive a package of Blamtastic Lip Balm natural based lip balm with formulas and packaging designed by the Sandler Sisters in their gift bags.
Blamtastic CEO and mother of the creators, Renee Sandler, says that the company's success thus far is due to the creativity and work ethic of her daughters, Lily, age 11 and Melanie, age 10, who design all products in house. "The girls have fast rules about how they want to run their business and I don't get in their way" says Mrs. Sandler. No animal testing, no artificial preservatives and a commitment to manufacture Blamtastic in the USA are all issue that are important to the girls. Their instincts have been right on. Customers love their products. The Sisters also have full veto power on every decision at the company. They know what tween market wants because they ARE the market.
Blamtastic Lip Balm was among a very select number of items chosen by Emmy party organizers for the gift bags. Blamtastic shipped 1,600 lip balm packages to New York City Wednesday in specially created packages.
The Sandler Sisters are crossing their fingers that their product finds its way into the hands of a seasoned journalist who knows a good story when they see it. It would be a big boost of publicity for their fledgling enterprise. "The girls are quite excited to have their product featured at the Emmys event and they're hoping that Matt Lauer of the Today Show will try one of their lip balms since they are big fans of his," said Mrs. Sandler.
###