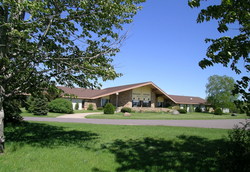 For this one thought would be enough to save you and the world, if you believed that it is true, declared Cryer.
Wisconsin Dells, WI (Vocus) September 21, 2009
Sunday marked the final day of the weekend Course In Miracles event "The Transforming Art of Divine Improvisation". Sunday's program was listed as "Act 3: The Final Act: A Step Out of Time – 'I Feel a Healin' Comin'On' ", and by all accounts, accurately described the experience of presenters and participants alike.
Presenter Reverend Tony Cryer, who delivered the Sunday morning sermon concluded by reiterating the Truth about every individual as set forth by Jesus Christ in Lesson 110 of A Course In Miracles entitled, "I am as God created me". "For this one thought would be enough to save you and the world, if you believed that it is true, declared Cryer. " Its truth would mean that you have made no changes in yourself that have reality, nor changed the universe so that what God created was replaced by fear and evil, misery and death. If you remain as God created you fear has no meaning, evil is not real, and misery and death do not exist."
In summing up the entire event, illuminate teacher and presenter had this to say, ""We explored ideas of harmony, vibration and music in healing and transformation. We included all the major composers in classical music and heard short pieces from them to demonstrate the idea of sonata form and how music is put together.
"Quantum physics and string theory were discussed to show the evolution of physical theory as it relates to transformation and A Course in Miracles. We listened to didgeridoo and rap, folk music, jazz and classical music. We heard pieces from Gregorian chant to the Baroque, then from the Romantics to the breakdown of form in 20th Century music.
"It was a musical transformative event that allowed for a joining in time that took us beyond limitation and into a true harmony of the spheres that is all around us.
"A musical blast!"
The event "The Transformational Art of Divine Improvisation" at the Miracles Healing Center in Wisconsin Dells, WI, which began at 7:00 PM on Friday, September 18, concluded on Sunday, September 20, 2009. Information about that and future events can be found at http://www.miracleshealingcenter.com . Or by calling 608-253-HEAL (4325).
###