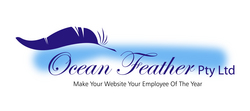 as I have built a reputation for excellence in internet marketing, purely by fixing the disasters built by graphic designers. In some measure, I owe an element of my success to these operators
Gold Coast, QLD (PRWEB) September 22, 2009
Boutique Gold Coast internet marketing firm Ocean Feather Pty Ltd, has recently turned its attention to improving the standard of internet marketing knowledge with the local businesses on Australia's Gold Coast. In a reaction to the growing incidence of non-performing websites launched by graphic designers and other hard selling "internet professionals", the marketers at Ocean Feather want to raise the understanding of how the internet works, so small business owners can make informed decisions when choosing a vendor to develop their websites.
"My industry is a disgrace at the moment," says Damian Papworth from Ocean Feather. "Being completely unregulated, anyone can and does claim to be able to do 'internet.'" The result is one non performing website after another being built, launched and paid for by small business. And all this in a climate when we should be protecting these business owners. They are really battling at the moment."
"I call it the 'Graphic Designer Effect,'" Papworth continues. "Graphic designers are a real problem in the industry because they do not understand how damaging they are to their clients. Their skills are in design, not internet; it is a completely different skill set. We use graphic designers to produce the design elements of our clients' marketing campaigns; it is the best practice to ensure we are looking after our clients' interests. I am an internet marketer after all; I know nothing about graphic design. How bizarre is it that so many graphic designers fail to see that design is different to internet marketing and think arranging a bunch of pretty pictures is enough to make a website." 95% of graphic designer produced websites sit somewhere in cyber space and are never visited because most graphic designers do not have the internet marketing skills required to launch successful websites.
This is where designers end up costing their clients so much and why they are such an issue in the internet marketing industry. They believe a website is about design and that is where it finishes. Unfortunately, design counts for nothing when no-one can find the website. Positioning a website so clients will find it when they are searching for the website owner's products is a science, it is an art. This is the part that graphic designers never understand. This is why they damage their clients by selling their design heavy, internet unfriendly websites.
Like so many things these days, it is small business that picks up the bill for this issue. They pay thousands of dollars for the production of these websites, thousands of dollars which will never return a cent as no-one will find them once they are launched. That is not the only cost though. Having been stung with a non-performing "investment", most business owners walk away from the internet believing "internet professionals" (failing to grasp their website was NOT put together by an internet professional) are not a good investment and that the internet is not a good medium for marketing their products. So the cost for these business owners spirals as their competition gets online sale after online sale that they are not even competing for.
Ocean Feather Pty Ltd, recognising how damage this is to small business generally and the internet as a whole, are taking some small steps to rectify the issue. "It's about equipping business owners with enough knowledge about the internet that they understand at a high level the types of website which will be found and the types of website which will not be found," says Damian Papworth. "With this understanding, a business owner can quickly see examples of any operator's previous jobs and see if they are examples of potential marketing tools, or clearly pieces of non performing design. In this way they can screen potential vendors and at least get past the charlatans who are out to make a quick buck without understanding the internet at all."
"The exercise is a little bit ironic for me", continues Damian Papworth, "as I have built a reputation for excellence in internet marketing, purely by fixing the disasters built by graphic designers. In some measure, I owe an element of my success to these operators". Despite that and recognising every small business who is hurt by a bad website will blame the internet or the internet marketing profession, Ocean Feather will continue to freely offer advice about the dos and don'ts of internet marketing. They offer this advice on their website and on their FaceBook page.
Small business owners who have spent money on a non-performing website are extremely hesitant to spend more money on something that is not working for them. Further, there is little trust in the profession which has already taken from them and given nothing back. The information provided by Ocean Feather aims to address this on two fronts. It aims to provide enough information so a business owner can be critical of their existing website and recognise where the issues are, while also trying to rebuild their faith in the industry professionals, by explaining who the industry professionals really are.
It takes an incredible amount of faith for a business owner to spend money on the internet having already lost money with a bad operator. The Its Bin Cleaned franchise business is one such Gold Coast business who started with a non-performing website, had the faith to have it looked at again and has seen a tremendous turn around in their online sales since the technical flaws in the website were corrected. "It was like someone flicked a switch" said Dean Odewahn from Its Bin Cleaned. "All of a sudden, our phone started ringing. My only regret was not finding Ocean Feather before I did. I still cringe when I think of the business we lost."
Gold Coast start up Queensland Tutors is another to benefit from the Ocean Feather approach to internet marketing. "We launched our website and signed our first client on the same week" relates Robert Stewart. "All Damian did was structure the website properly so our clients could find us on Google. Our internet marketing campaign has been so successful over the first three months that we have had to pause our work with Ocean Feather while we reviewed our staffing limits - we never believed Damian when he told us how important robust internet marketing was until we saw it ourselves."
Cynics have suggested this education program for small business is a cleverly crafted marketing campaign by Ocean Feather, an attempt to win customers in a tough market. Given that they have capped their clientele to a maximum of ten businesses at a time and will never service two clients in competition to each other, it is hard to see how this argument holds. "We are a boutique internet marketing consultancy," explains Damian Papworth, "defining our offering on exclusivity, intimacy and quality. Given we will only ever service ten clients at a time, this education campaign is about those small businesses that we cannot get to, not the ones we are servicing."
###