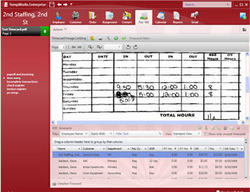 making each client an advocate.
St. Paul, MN (PRWEB) September 23, 2009
Link Staffing has built an impressive track record over its three decades, emerging as one of the nation's top providers of temporary staffing solutions, something of an anomaly in an industry where seemingly few firms survive longer than the candidates they place.
Founded in 1980 as a single branch office in Houston, Texas, Link Staffing quickly found a niche in a city just emerging as an industrial and manufacturing powerhouse; today the city ranks behind only New York City for the number of Fortune 500 companies headquartered within city limits.
Specializing in industrial, skilled labor and general administrative positions, Link Staffing's spectacular growth mirrored that of the city it calls home, becoming Houston's temporary labor solution of choice. While Houston's largest employer, Enron, imploded due to its pervading lack of ethics, Link, by contrast, has grown in large part due to its focus on core values, succeeding in its stated mission of "making each client an advocate."
Exemplified by its commitment to employees and clients alike, dedication to exceeding expectations, and focus on continuous improvement, Link's unique value proposition and proven operating model led the firm to begin franchising in 1994; the company has since grown to over 60 offices in 12 states, 80% of which are owned and operated by franchisees.
With a cadre of entrepreneurs and small business owners relying on Link's ability to respond to the demands of the market through continued innovation, Link Staffing Services has built an impressive support system, providing the infrastructure for its franchisees to continue to grow their businesses. The company's newest offering, a pioneering digitized time card system designed to make the payroll process faster and more convenient than ever, does just that.
It's a solution that has helped Link Staffing remain at the forefront of the temporary staffing industry, and one that is quickly being replicated by other firms eager to simplify their payroll and back office process es.
The innovation could not have come at a better time for the temporary industry, which has been particularly hard hit by the recession. Many firms have been forced to dramatically scale back their products and services due to the marked decline in job orders and revenues, affecting their ability to service both clients and candidates.
These agencies, however, are among the lucky ones; a record number of temporary staffing firms nationwide have shut down due to both decreased demand and an inability to adjust their operating and cash flow models to the new realities of American business.
With job orders and revenues declining, however, a handful of temporary staffing and contingent labor firms are busier than ever with a record influx of candidates lining up to utilize their services, part of the swelling ranks of American workers who, by choice or circumstance, are commonly referred to as "underemployed."
As the ranks of the underemployed swell, millions are turning to temporary staffing firms for help, many for the first time; according to a branch manager at a Glendale, CA based staffing firm, who declined to be identified by name, "We're seeing dozens of new candidates every day, many who would not have considered temp work in the past. These are college educated; skilled professionals who want to go back to work. Even when a job order does come in, we have to do a lot more hand-holding: this is how you get your time card approved; this is how you call in for assignments. It's overwhelming."
Fortunately, staffing agencies are feeling a little less overwhelmed with the introduction of TempWorks Timecard Linking, an application which enables staffing firms to display the digital image of scanned time cards with their corresponding transactions. By digitizing and automating these processes, staffing companies are able to speed up their week-end processes with a faster audit of transactions prior to payroll. Tempworks Timecard Linking also enables staffing agencies to increase operating efficiencies while reducing human error by attaching the digital copies of the timecards directly to their corresponding invoices.
According to Tempworks EVP Mark Baratto, "Tempworks Timecard Linking is a timely offering for our clients. Staffing Executives and HR Professionals are working harder than ever to cut costs and improve productivity without reducing customer expectations."
Digitizing timecards, Baratto says, gives staffing firms the ability to increase internal controls around back-office processes. "Handling time cards electronically eliminates man-hours within the payroll process and protects agencies from branch level fraud. It can be used to prevent a payroll check from being cut without the presence of an authentic timecard, and can be used to quickly reference documentation supporting invoices to speed collections."
In short, Tempworks Time Card Linking Service eliminates the error of lost time cards, one of the most common challenges confronting temporary staffing firms. This is good news not only for internal recruiters, for whom lost time cards can affect when and how much an internal staff is paid, but also for the workers themselves, who can be assured that they will be paid accurately and on time for their hours worked.
To the millions of underutilized American workers turning to temporary work to stay afloat, this consistency means that bills and mortgages, like their paychecks, will be paid accurately and on time. It's a peace of mind that comes as welcome relief to many recruiters, and the workers they place, who have had to deal with the repercussions of a lost time card.
"Lost time cards have always been a big issue for us," reported a satisfied recruiter whose firm recently adopted Tempworks Time Card Linking. "When we can't find a time card, we are unable to bill the client for the service provided; since we work mostly on commission, this hugely affects not only our paycheck, but the company's overall sales. Now that the time card automatically links to the invoice, we can be at ease that we will get paid."
Link Staffing Services IT Manager and Tempworks Time Card Linking customer Diem Nguyen reports that the product has increased operational efficiencies while creating bottom line savings.
"Tempworks Time Card Linking allows us readily produce invoices in a format verifiable by the AP department because timecards are attached to the actual invoice, preventing fraud and billing mistakes," Nguyen says. "Because an electronic copy of the timecard is created and stored in the Tempworks database, we are saving both time and money."
The Tempworks Time Card Linking application can be deployed as a licensed feature to TempWorks Enterprise Software customers, as a standalone application to staffing industry lenders, or as part of an integrated business process outsourcing package managed directly by Tempworks.
The Timecard Linking service is a natural addition to the Tempworks Paperless Staffing initiative, automating all aspects of a staffing firm's internal operations, and many clients report that the time and cost savings represented by Tempworks' solutions aligns with their overall business plans and strategic direction.
By eliminating paperwork, staffing firms are free to focus on their core business, matching candidates with opportunities. With unemployment at historic levels, there might not be a more important business to be in.
About TempWorks Software
Founded in 1994, TempWorks provides a full suite of enterprise staffing solutions. Designed to automate and streamline all facets of a staffing firm's daily operation, TempWorks Software offers fully integrated front and back-office staffing software, web portals for customers, employees, applicants and vendor management, and many additional modules. From recruiting to payroll and everything in between, TempWorks Software puts technology to work for staffing firms and their clients.
For more information about TempWorks, please visit http://www.tempworks.com or contact Director of Public Relations, Laura Baratto, at 651-452-0366.
###