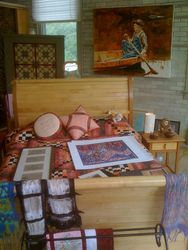 We want to create an Internet experience that fosters relationships — between the artist and the shopper, and artist-to-artist
Thomas, W.Va. (Vocus) September 22, 2009 —
A new Internet platform will use social media and other features to improve e-commerce sales and build community around West Virginia artisans and their fans.
MountainMade Foundation announced last week it had created a for-profit subsidiary to manage marketing and sales of handmade goods produced by West Virginia artists, craftspeople, musicians and more.
The foundation took on the business support of West Virginia artisans in 2001, also offering educational programs, studio and equipment rentals, and three retail locations in the state. MountainMade Inc. will now direct the commercial operations, with the goal of growing self-sustainable funding and support for the non-profit foundation.
A redesigned Web platform combining e-commerce and social media will be important in achieving MountainMade's goals, said the site developer.
"We want to create an Internet experience that fosters relationships — between the artist and the shopper, and artist-to-artist," said George Rogers, Chief Creative Officer of WELD, the Oak Hill-based firm retained to lead the project.
"We want to enhance what is already a meaningful experience — buying quality, handmade goods and art — and give people tools to tell each other stories about that," he said.
Rogers said MountainMade artists will be able to distinguish themselves with customizable profiles and blogs. Shoppers will be able to rate and review products, like most e-commerce sites. He added both WELD and artists are producing new content, such as video and educational articles, and presentation will be enhanced with new graphic design.
MountainMade differs from other web-based shops for handmade goods in that it represents a juried selection of West Virginia artisans. Artists, musicians and craft-makers apply to an evaluation process three times a year and are admitted by a panel.
MountainMade artist Heidi Muller is a singer-songwriter and guitarist who also plays Appalachian dulcimer. Muller teaches dulcimer workshops for children and shares oral histories about Big Ugly Creek, West Virginia. She said people who purchase handmade items or connoisseurs of mountain music take great interest in the creative process and personal connection with the artist.
"The new MountainMade website will offer a great opportunity for give-and-take between customers and creators," Muller said. "The blogs, articles, videos and reviews will generate greater communication, learning and feedback, and that will develop a deeper connection that benefits both sides."
Rogers said WELD also plans to make the MountainMade website the hub of a larger, overall presence on the web, with plans for activity on social sites like Facebook and Twitter, and artists' current representation with personal websites or platforms such as Etsy or eBay.
The MountainMade website redesign is scheduled for launch in mid-October.
###