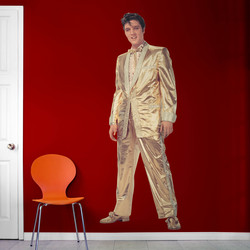 The King of Rock and Roll may be gone but the impact of his work continues to thrive and live on in the hearts of his fans. Artopia is the perfect destination for music lovers looking to create a unique gift item
Blacklick, OH (PRWEB) September 23, 2009
Get ready to rock 'n' roll at your house with print-on-demand Elvis Presley apparel, décor and gifts from Artopia.com.
Artopia and Elvis Presley Enterprises, Inc., today announced a new licensing agreement that allows fans to choose from a large selection of vintage Elvis images to create unique items 24-hours-a-day, on the innovative design-on-demand website Artopia.com. Fans can select from Elvis album covers, film posters or still photos of the King himself to create one-of-a-kind keepsakes and gifts. Finding and creating that must-have Elvis gift for you or a friend has never been easier.
Customizable items include t-shirts, mugs, wallets & purses, laptop skins and even life-size images of Elvis for your wall. There is even a selection of pet apparel so "hound dogs" can also pay tribute to the King of Rock 'n' Roll.
"The King of Rock and Roll may be gone but the impact of his work continues to thrive and live on in the hearts of his fans. Artopia is the perfect destination for music lovers looking to create a unique gift item," said Larry Levine, President of Artopia.
For more information about Artopia.com and Everything Elvis Store, please contact Lindsay Moore, Licensing Director at 614-522-6096. Checkout the offerings of the Everything Elvis store by visiting http://www.artopia.com/Elvis .
About Elvis Presley Enterprises
Elvis Presley Enterprises, Inc. is based in Memphis, with additional offices in Los Angeles. In addition to Graceland and its related attractions in Memphis, including the Heartbreak Hotel, EPE is aggressively involved in a worldwide licensing program, merchandising, music publishing, and television, film, video and Internet projects. For more information on EPE and Graceland, visit http://www.elvis.com. EPE is a subsidiary of CKX, Inc. (http://www.ckx.com), a publicly traded company listed on the NASDAQ Global Market® under the ticker symbol CKXE.
###