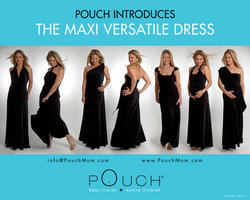 Vista, CA (Vocus) September 22, 2009
Pouch gives moms-to-be a chance to look glamorous and comfortable this Holiday Season, while minimizing the costs, with their new Maxi Versatile Dress. The Versatile Dress from Pouch takes the trends of today and spins it into an elegant, sophisticated and comfortable maternity look.
The dress is designed to take on a variety of looks. It can morph into at least seven different styles, taking a woman from work to play, from serious to charming to sexy.
For the price of one dress, expecting mothers can have an entire wardrobe. The soft and silky, as well as stretchable, fabric provides moms-to-be with a dress they can wear nine months and beyond all while feeling comfortable and looking fabulous.
With the Holiday Season quickly approaching and the holiday party invites growing, expecting mothers will have an new outfit for every event, at the expense of buying just one dress.
Women can wear it to a holiday office party as a plunging halter, or wear it as a strapless to a black tie event. It can be worn as a knotted halter, front-wrap, one-shoulder, draped shoulder and many more. This dress is as limitless as the creativity of the woman who wears it.
Since, the Maxi Versatile Dress is so many dresses in one; it lets a woman feel beautiful and fashionable without breaking the bank. The epitome of value dressing, it gets the maximum out of every dollar.
When the holidays are over, the Maxi Versatile Dress continues delivering great value and great looks. Because it takes up little space in a suitcase and is ready to wear right out of the suitcase, it's the perfect dress for travel and vacations. A woman could take an entire cruise just with it – and be fabulous having dinner with the captain, and dancing the night away. Plus, it can be worn long after the pregnancy!
The Maxi Versatile Dress is made from a soft, silky, luxurious knit matte jersey fabric, 95% polyester/ 5% spandex. So it has a wonderful look and feel, and is washable and wrinkle-free.
The Maxi Versatile Dress joins the Pouch family of Versatile Dresses:
The Classic (below the knee), The Kicky (for petite or above the knee) and Lace for a special night.
For more information about the Maxi Versatile Dress and other great products by Pouch visit http://www.pouchmom.com.
Contact:
ChicExecs PR
http://www.ChicExecs.com
1487 Poinsettia Ave Ste 125
Vista, CA 92081
760.992.9113
ChicExecs PR is an "out of the box" PR company which represents over 70 clients. ChicExecs has created an innovative approach to PR dedicated to helping small-medium business receive media coverage. Our revolutionary automated system is changing the face of PR. To learn more about ChicExecs visit http://www.chicexecs.com.
###