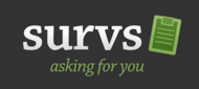 Lisboa, (PRWEB) September 23, 2009
Enough Pepper announces the launch of Survs, the new online survey tool acclaimed by users and media.
Survs is the product of an engaged team, that thought it could bring something new to the surveys world. The existance of plenty of well established online survey companies didn't act as a deterrent, but served as an impetus to build an online survey tool that gets things done providing a great user experience. What's the secret? Users were involved in the design process from the first sketches to the "final" product.
The result? Survs has a very powerful set of features, carefully designed so they won't obstruct anybody. The user just needs to start playing with the basics and then slowly discover everything else they can do with Survs.
But the task of creating, distributing and analyzing online surveys doesn't have to be carried out alone... In contrast to other survey applications who have only met role-based permissions on a later phase (or not at all), Survs was built from the ground up with collaborative work in mind. It has some original social features like sharing survey and theme templates, and there are many more innovations at the planning stage.
With a beta version online, the company was overwhelmed by the feedback from its users and the media. Survs has been receiving very positive reviews on the biggest web application portals (like Techcrunch), considered the best online survey tool by .net magazine and, according to the Survs user survey results, 98% of the most frequent users say they would probably or definitely recommend Survs to a friend or colleague.
Thanks to its internationalization features, Survs quickly spread worldwide to more that 130 countries. Besides the ability to create custom survey languages, Survs also supports right-to-left languages and the unicode character set.
Enough Pepper says thanks to all the people who have helped the company reach this far and invites everyone else to sign up for a free plan and experience a new approach to online surveys.
Everybody who wants to spread the word about Survs can make use of the Media Kit. It's intended for anyone: journalists, bloggers or whoever wants to explain to their friends what Survs is.
Enough Pepper is a (proudly) small company located in the engaging city of Lisbon, Portugal. Our team is composed by passionate and experienced people who like to work with a smile on their faces. For more information please visit http://www.enoughpepper.com.
###