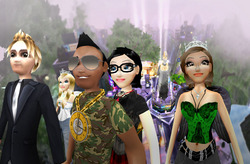 Tempe, AZ (PRWEB) September 22, 2009
Once again, Onverse has updated its free virtual world with some jaw-dropping additions that continue to show the company's drive and direction. The company's founder and CEO, Steve Pierce, said "This update was really important for us. We wanted to continue to show that we can crank out quality content with our realistic pets, but to also start showing our direction, a direction towards games. Games are our true passion and we wanted to showcase our ability to make them and attach them to our world."
The new virtual pets are available via a new store located in the Hub, the world's central shopping district. There are three types of pets: furniture pets, shoulder pets, and premium pets. Furniture pets are pets such as fishbowls and hamster wheels that you can place in your home. Shoulder pets are pets that can ride around on your avatar's shoulder, like a parrot to match the pirate costumes. Premium pets are the most realistic pets that follow your avatar around, realistically choose to look at different people and objects, and will even sit down next to your avatar at a bench or fire pit. Premium pets come in many forms from common house cats, to a variety of dogs, to exotic giraffes, monkeys and zebras. There are some rare pets as well, from unicorns and uniraffes (a unicorn, giraffe mix), to multiple high-end dragon pets. Rare pets are sold for Player Points, the free currency found through using your tools or playing IceFall.
IceFall is an action/shooter game that is "simple to learn, but difficult to master", said Pierce. Players travel to the lands of King Frosty, a quirky snowman who thinks that the Onversers have grown too close to his lands, and he has challenged them with the promise of riches, or doom, hoping he can "thin the herd." Players can buy tickets in his cloud towers where the competitions are held to compete in eight-person matches that are quick and action packed.
As the game begins, players are teleported into a glass room watched by other waiting players. The game board is divided into tiles that begin to crack and fall into the Cloud Abyss below. Players start with an endless supply of snowballs and the ability to double-jump. Power-ups and Player Points randomly spawn across the board as it quickly shrinks. The goal is to knock off the other competitors and collect as many Player Points as possible. The games are quick, fun and highly addictive. You can also challenge others to high-end games where Player Points are anted for higher rewards, but greater risk.
When asked how IceFall shows the company's direction, he responded "Onverse (the world) is the social core that we want to attach more games like this to. We want to give many options for different types of gamers to play, but they can always come back to this core to hang out with their friends and spend the rewards they've gained on items for their avatars or homes." When asked a final question of "How's business?" Pierce replied "I encourage you to play our competitor's worlds, and then come play Onverse. We are only three months into a beta and I believe we have more to offer than many worlds that have been publically available for years. We're still a start-up though and we are still pursuing funding to increase our advertising capabilities, but other than that, business is good."
Thank you to Steve for his responses and to Onverse for taking up most of my weekend. Once again, Onverse delivers.
###