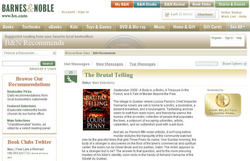 The fifth of Louise Penny's Chief Inspector Gamache novels, The Brutal Telling is a psychological thriller readers will not be able to step away from
New York, NY (PRWEB) September 22, 2009
Barnes & Noble, Inc. (NYSE: BKS), the world's largest bookseller, announced today that Louise Penny's The Brutal Telling (Minotaur) is the latest "Main Selection" in the Barnes & Noble Recommends program. The book goes on sale today, September 22, and can be purchased at any Barnes & Noble store or online at Barnes & Noble.com.
"The fifth of Louise Penny's Chief Inspector Gamache novels, The Brutal Telling is a psychological thriller readers will not be able to step away from," said Jaime Carey, chief merchandising officer of Barnes & Noble, Inc. "Fast-paced and smart, this thought provoking mystery will keep them on their seats till the very end."
In Three Pines, the quaint village of Quebec where the Chief Inspector Gamache series is set, the villagers are immersed in the intricacies of their everyday lives; the deep friendships, eccentric personalities and minor quarrels, with delicious aromas perpetually in the background. The small community is shocked to attention when the body of a stranger is found on the floor of the town's bistro, run by Olivier Brulé and his partner, Gabri. Chief Armand Gamache arrives in town with his slew of detectives to uncover the identity of the stranger, and more importantly, his killer, either a stranger himself or one of their own, still among them. Slowly, small discoveries and shocking findings are revealed, from the hidden treasures of an old man to the dark secrets of beloved villagers. With breathless anticipation, the reader follows Gamache as he pursues the truth hidden in the heart of a seemingly loving community as the little village braces for the final, brutal telling.
A Barnes & Noble bookseller who voted for this selection praised The Brutal Telling as "a riveting story that unfolds like a chain of paper dolls, until it reaches its startling conclusion." Another bookseller added, "Thank you for introducing me to a terrific new mystery writer. Why hadn't I discovered this series before? Inspector Gamache is magnifique! I can't wait to read the first four books. This is the perfect autumn curl-up-on-your-couch-with-a-café-au lait read."
The Barnes & Noble Recommends program includes:
­- Barnes & Noble store events. Reading group discussions and author appearances for The Brutal Telling will be held in select Barnes & Noble stores.
­- The Online Experience. A video interview with Louise Penny will be posted online along with interactive discussions of this and other recommended books at BN.com/recommends.
­- A free reading group guide. A free reader's guide, including discussion questions and more about the author, is available at any Barnes & Noble store and at BN.com/recommends.
­- Advice for reading groups. Customers can ask any Barnes & Noble bookseller for a copy of our free guide on how to start a reading group. The guide can also be found online at bn.com/BookClubs.
Barnes & Noble Recommends Main Selections are chosen by the company's booksellers from across the country. Each selection is a book that Barnes & Noble recommends unconditionally, believes is "unputdownable" and is especially appropriate for book discussion groups. The books can be discussed online at BN.com/Recommends.
The previous 15 Barnes & Noble Recommends Main Selections are:
­- Diane Setterfield's The Thirteenth Tale (Atria Books)
­- Chris Bohjalian's The Double Bind (Shaye Areheart Books)
­- Mohsin Hamid's The Reluctant Fundamentalist (Harcourt)
­- Paulette Jiles' Stormy Weather (William Morrow)
­- Sarah Addison Allen's Garden Spells (Bantam Books)
­- Maggie O'Farrell's The Vanishing Act of Esme Lennox (Harcourt)
­- Marisa de los Santos' Belong to Me (William Morrow)
­- Tom Rob Smith's Child 44 (Grand Central Publishing)
­- Ethan Canin's America America (Random House)
­- Mary Ann Shaffer and Annie Barrows' The Guernsey Literary and Potato Peel Pie Society (The Dial Press)
­- Stieg Larsson's The Girl with The Dragon Tattoo (Knopf)
­- Spencer Quinn's Dog On It (Simon & Schuster)
­- Sarah Dallas' Prayers For Sale (St. Martin's Press)
­- Katherine Howe's The Physick Book of Deliverance Dane (Hyperion/Voice)
­- Cathy Marie Buchanan's The Day the Falls Stood Still (Voice)
About Barnes & Noble, Inc.
Barnes & Noble, Inc. (NYSE: BKS), the world's largest bookseller and a Fortune 500 company, operates 774 bookstores in 50 states. Barnes & Noble is the nation's top bookseller brand for the sixth year in a row, as determined by a combination of the brand's performance on familiarity, quality, and purchase intent; the top bookseller in quality for the second year in a row and the number two retailer in trust, according to the EquiTrend® Brand Study by Harris Interactive®. Barnes & Noble conducts its online business through Barnes & Noble.com, one of the Web's largest e-commerce sites, which also features hundreds of thousands of titles in its eBookstore. Customers can buy and read eBooks on a wide range of platforms, including the iPhone and iPod touch, BlackBerry® smartphones, as well as most Windows® and Mac® laptops or full-sized desktop computers.
General information on Barnes & Noble, Inc. can be obtained via the Internet by visiting the company's corporate website: BarnesandNobleInc.com.
Social Media Links:
Follow B&N on Twitter
Become a Fan of our Facebook Page
Subscribe to our YouTube channel
###