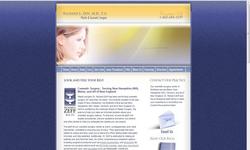 the most common corrective operations are tummy tuck and breast lift, which address the excess skin remaining following pregnancy and/or significant weight loss.
Stratham, NH (Vocus) September 22, 2009
The latest study from American Society of Aesthetic Plastic Surgery indicates a 162 percent jump in surgical and non-surgical cosmetic procedures since 1997. Breast augmentation and liposuction top the list for surgical treatments, and BOTOX® injections lead the way in non-surgical procedures. Among patients who seek out plastic surgeons to help them enhance their appearance is a small, but growing group: new moms. And a plastic surgery practice in New Hampshire is offering them a new approach tailored to their specific goals – the Mommy Makeover.
Dr. Richard Zeff meets with women from all walks of life at his practice, many of them new mothers who experience the typical after-effects of carrying a baby for nine months – sagging of the breasts, excess skin folds and stretch marks in the abdominal region, and unwanted fat in other body areas. These physical changes after pregnancy can often be extremely difficult to correct, even with a strict diet and rigorous exercise. Dr. Zeff can help women who undergo these changes with a Mommy Makeover, a combination of surgical and/or non-surgical cosmetic enhancement procedures designed specifically for the individual patient .
Patients considering a Mommy Makeover can restore their pre-pregnancy figures with a variety of procedures to address virtually any body area. According to Dr. Zeff, "the most common corrective operations are tummy tuck and breast lift, which address the excess skin remaining following pregnancy and/or significant weight loss."
In fact, many Mommy Makeovers typically include one or more of the following procedures: liposuction; breast lift; tummy tuck surgery (abdominoplasty); and breast augmentation in New Hampshire NH. Liposuction involves suctioning out excess fat from almost any area of the body. A breast lift addresses the common effect of drooping or sagging breasts by tightening the skin for a smoother, 'perkier' appearance. Those women wanting to add fullness and size to their bustline may wish to add breast implants to their Mommy Makeover procedure. And a tummy tuck rejuvenates the most troubling area in new mothers: the abdomen. With a tummy tuck, Dr. Zeff tightens the underlying stomach muscles that have been pushed apart during pregnancy. He then eliminates excess skin and tightens the remainder for a fit, flatter stomach. The Mommy Makeover procedure can also include a number of more subtle, less invasive cosmetic enhancement options such as injectables and skin rejuvenation treatments to give the face a more youthful, less tired appearance.
Although many of the Mommy Makeover procedures can be extremely effective, Dr. Richard Zeff cautions his patients that some may not be necessary, or that it may be better to wait and see which conditions will improve naturally over time. For instance, with a tummy tuck, Dr. Zeff says it's important that patients are not planning future pregnancies. "Once the condition of your abdomen has stabilized (or is no longer changing noticeably), tummy tuck can be considered."
Dr. Zeff discusses in detail all aspects of procedures to patients during an initial consultation. At this meeting, he will discuss the patient's goals and address questions or concerns. Although Dr. Zeff utilizes advanced techniques and state-of-the-art equipment at his practice, he advises new mothers, and any other patient considering plastic surgery, to do thorough research and feel comfortable with their doctor. "Your choice of surgeon is definitely more important than your choice of technique. His or her results should speak for themselves."
About Richard Zeff, MD
Dr. Richard Zeff has been in private practice since 1986. He is a member of the New England Society of Plastic and Reconstructive Surgeons and is certified by the American Board of Plastic Surgery. Dr. Zeff is also a member of the American Society of Plastic Surgeons, the American Society of Aesthetic Plastic Surgery, and the New Hampshire Medical Society. He served as Chief of Surgery at Portsmouth Hospital in Portsmouth, New Hampshire, and is an active staff member at Portsmouth Regional Hospital. Dr. Zeff's Stratham, New Hampshire plastic surgery practice is also a free standing ambulatory surgical facility and is licensed by the State of New Hampshire and accredited by the American Association for Accreditation of Ambulatory Surgery Facilities, Inc. (AAAASF), an organization that only certifies facilities that embody the highest standard of care.
For more information on the Mommy Makeover and procedures such as liposuction in New Hampshire NH, Dr. Richard Zeff's cosmetic plastic surgery practice can be reached at 137 Portsmouth Avenue, Stratham, NH 03885 - (603) 684-2339, or through his website at http://www.drrichardzeff.com.
###