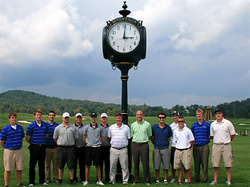 I have players from Russia, Scotland, and England that have used facilities all over the world and no one on our team has ever seen anything this good. The practice course, short game area, driving range, technology, and staff are unbelievable. Our team is able to accomplish more in one session at this facility than we could during a week anywhere else. We are thrilled to have this access
Etowah, NC (PRWEB) September 23, 2009
Seven Falls Golf and River Club has reached an agreement with Brevard College to allow the school's golf team to utilize the Arnold Palmer Premier Golf Academy at Seven Falls for a limited number of practice sessions during the golf season in progress.
The Brevard College Tornado Golf Team is in its second season as official members of NCAA Division II and the South Atlantic Conference. Head Coach Michael Bayne took over the program this year and is excited about the partnership with Seven Falls.
"I have players from Russia, Scotland, and England that have used facilities all over the world and no one on our team has ever seen anything this good. The practice course, short game area, driving range, technology, and staff are unbelievable. Our team is able to accomplish more in one session at this facility than we could during a week anywhere else. We are thrilled to have this access," Coach Bayne said.
Matt Adamski, PGA Professional at Seven Falls explained, "We are excited to be able to be a part of the local community. Brevard College is a great school and a cornerstone of Brevard and Western North Carolina. Our relationship with the school allows us to contribute to the development of this area's future leaders."
To see a video update of Brevard College's practice sessions at Seven Falls visit http://sevenfallsnc.blogspot.com.
###