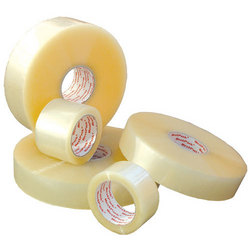 Rancho Cucamonga, CA (PRWEB) September 24, 2009
Carton sealing tapes experts BestPack, known for its expertise in packaging engineering, has found significant success with its specially formulated carton sealing tapes. BestPack combined its knowledge of carton sealing machinery with one of the largest manufacturers of packaging tape to develop a carton sealing product that provides the needed consistency and durability when sealing boxes through a tape machine. Furthermore, BestPack's BP Carton Sealing Tape is environmentally friendly. The BP line of carton sealing tapes is ROHS certified and produced with a water-based adhesive.
The BP Carton Sealing Tape has received great reviews since its introduction four years ago. The broad temperature range and consistent film quality of BestPack's BP carton sealing tapes has been popular in the food industry where temperature flexibility is crucial. BP Carton Sealing Tape has also found success in the pharmaceutical, apparel, and electronics sectors. The consistent quality and film formulation from its development in an ISO 9001 & 14001 facility have been the foundations of the BP product's success.
One statistic that illustrates the success of this tape is on sales comparisons alone. Machine length tape of a typical tape manufacturer is usually around 20-30% of the company's packaging tape sales. The success of the BP line of carton sealing tapes has pushed BestPack's machine length tape sales to about 50% of total tape sales in 2009.
A leader in carton sealing tapes packaging and efficient equipment solutions, BestPack.com offers packaging equipment such as carton sealers, case formers, and case erectors that are manufactured and distributed with only the highest quality. Consistently a leader in packaging equipment, carton sealers, and case erectors, BestPack.com has served the cosmetics, food, medicine, and dry goods industries well by providing cost-efficient carton sealers. BestPack.com also provides customizable packaging equipment solutions specific to the industry their client belongs to, which allows a competitive advantage over other competing businesses.
For more information on efficient packaging equipment such as carton sealers, case formers and erectors, and other packing materials, simply sign up with the company's newsletter to regularly receive updates.
About BestPack.Com
Based in Rancho Cucamonga, CA, BestPack is the industry's leader in packaging equipment machinery, carton sealers, carton erectors and carton sealing tapes. Also providing customized packaging solutions, BestPack is the most reliable and dependable manufacturer of all product packaging systems. Press release produced by Cybertegic.com - an Internet marketing services agency that specializes in search engine optimized press release marketing (SEO marketing).
###