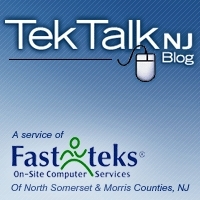 We're offering the TekTalkNJ blog as a service to our customers
Warren, N.J. (PRWEB) September 22, 2009
Fast-teks of Northern Somerset and Morris County, NJ, recently launched TekTalkNJ, a new blog to provide clients with computer and repair resources. The TekTalkNJ blog is posted at http://www.TekTalkNJ.com and covers Mac and first aid PC repair and service topics such as spyware and virus removal, network administration and security, wireless network setup, data backup, hard drive & data recovery, and equipment purchasing advice.
"We're offering the TekTalkNJ blog as a service to our customers," notes Fast-teks franchise owner Harold Grossnickle. "We will strive to provide helpful technology tips, opinions and resources, and we're excited about engaging our customers and others who rely on computers at home or work in an ongoing conversation."
Recent TekTalkNJ blog postings include:

"There are plenty of off-brand and small label PCs on the market that will do the trick at half the price. The important part is what's inside," writes Jeff Rothstein, Fast-teks field operations manager, in a blog entitled How to Buy the Most Computer for the Least $$.
Fast-teks offers a full range of computer support and IT solutions to meet your entire home and business needs and get your equipment operating as efficiently as possible. The highly trained Fast-teks staff provides courteous, professional service at affordable rates in the convenience of clients' homes or businesses. And for those unexpected emergencies when technology needs to be repaired or restored immediately, same-day computer service is available - including nights and weekends - as well as help desk support via phone, email or text.
About Fast-teks, Inc.
Fast-teks is an on-site computer service company which specializes in both residential and business IT services. Fast-teks is one of the fastest growing on-site computer services firms in North America and offers business owners and residential customers a one call solution for all of their computer needs. The Teks-Talk blog is produced by Fast-teks of Northern Somerset and Morris Counties, NJ.
###