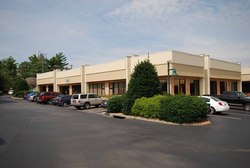 This may be a once in a lifetime opportunity to acquire quality cash flowing commercial real estate in the Greensboro and Charlotte markets at substantially discounted prices.
Charlotte, NC (PRWEB) September 23, 2009
What promises to be one of the most important commercial real estate auctions in North Carolina this year will take place October 28, 2009 in Greensboro, NC. As many as twelve parcels will be offered absolute, without reserve, and regardless of price. The sale will be conducted by locally operated Chartwell Auctions, Gordon J.Greene Broker and Auctioneer. Rather than sell these assets slowly over a period of months, multiple ownerships have decided on this one time only sale, passing substantial savings to the successful bidder at auction. Properties to be included in the Greensboro, NC Real Estate Auction include:
Guilford Jamestown Business Park is located at 616-624 Guilford College Rd., Greensboro (Guilford County), NC 27409. The business park is ideally situated at the intersection of Guilford College Rd. and I-40 at Exit 213, just three miles from Piedmont Triad International Airport (PTI) and eight miles from Downtown Greensboro, North Carolina's 3rd largest city. 24 Office/Warehouse Condominiums ranging from 751 sq. ft to 6002 sq. ft. will be offered individually.13 of the 24 office/warehouse condominiums are income producing with scheduled annual rents up to $68,356. Most condos offer a combination of both office and warehouse space with ceiling heights from 8 to 18 ft. Seven commercial condominiums include drive-in or dock high doors. The properties are zoned Light Industrial offering an array of potential office, warehousing, manufacturing, and retail uses. 12 of the 24 commercial condominiums will be offered Absolute, without reserve and regardless of price. Suggested opening bids start at $15,000 or $19/ sq. ft. for select condominiums. Seller financing will be available to all purchasers at Guilford Jamestown Business Park with a 30% down payment at 6% interest.
Glenwood Point Apartments are located in northwest Charlotte, NC just off I-85, Exit 35 on Glenwood Dr. between Freedom Dr. and Brookshire Freeway. The apartments are just 2½ Miles from the outer beltway I-485 and Downtown Charlotte, the corporate home of Bank of America and the NASCAR Hall of Fame. The property features 18 one and two story all brick and brick/wood façade buildings from 2,929 sq. ft. to 7,322 sq. ft. built between 1965-67 on 14 individual land parcels totaling 5.96 acres. 98 total units including (3) 4-BR/2 Bath, (1) 3-BR/1.5 Bath, (54) 2-BR/1.5 Bath, (39) 1-BR/1 Bath, and an on-site office with 3 new coin operated washers and dryers. Over $570,000 in scheduled gross annual income at full occupancy. The Glenwood Point Apartments are currently 86% occupied with scheduled rents from $395 to $700/month. The apartments are offered subject to a published reserve price of only $1,295,000. Family relocation forces this immediate sale.
Jason Dolph, Manager of the Chartwell Auctions Charlotte office, stated, "This may be a once in a lifetime opportunity to acquire quality cash flowing commercial real estate in the Greensboro and Charlotte markets at substantially discounted prices." Dolph adds, "Many commercial real estate investors are not finding the bargains they anticipated from bank foreclosures. This auction on October 28th in Greensboro, NC offers an array of office, warehouse, flex, and multi-family real estate with a genuine opportunity to purchase at your own price."
The auction will be held on Wednesday, October 28, 2009, 1:00 P.M. at the Clarion Hotel Greensboro Airport, 415 Swing Rd., Greensboro, NC 27409. For a free color brochure on the October 28, 2009 Real Estate Auction with terms of sale for all properties you can call Jason Dolph with Chartwell Auctions at 704-831-8983.
####