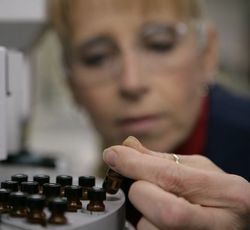 Northwood, OH (PRWEB) September 23, 2009
NAMSA's Analytical Chemistry department is on the move. After months of planning, building and cleaning, the new, state-of-the-art Chemistry and Materials Characterization facility is now in use at NAMSA.
The new facility houses three different labs including a wet chemical lab, an instrumental services lab and a Volatile analysis lab. By doubling the capacity for Chemistry testing, NAMSA is better equipped to introduce new testing capabilities like Inductively Coupled Plasma Spectrometry (ICP) and Volatiles analysis USP 467 on-site.
"We believe this move positions us to provide enhanced turnaround time, better workflow to increase our testing workload and more efficiencies," said Joe Grappin, Chemistry Manager. "With the renovated and expanded space, we are able to add equipment and personnel to meet the increasing needs of materials analysis required by medical devices and combination products."
In addition to better turnaround times and increased speed to market, NAMSA's Research and Development team will also have increased capabilities to develop additional materials characterization assays. With all of these improvements for our clients, expanding the Chemistry lab was an easy decision for NAMSA's President, John Gorski, to make.
"We continue to invest in our people, facilities, equipment and clients because we believe that developing relationships and trust is the right thing to do; It has been a key to over 40 years of success," said Mr. Gorski. "Even during this economic downturn, NAMSA is committed to providing the best possible medical device testing services by growing our business and expanding our capabilities."
For more information about NAMSA's new Analytical Chemistry facility, contact Andrew Gottfried at agottfried(at)namsa.com.
About NAMSA
NAMSA, a leading Contract Research Organization, offers medical device testing and consulting services to medical device manufacturers worldwide. Specifically, we offer Analytical Chemistry and Materials Characterization, Efficacy testing, Biocompatibility testing, Clinical Trials and Sterility Assurance and Microbiology testing services. The U.S. laboratories are certified to ISO 13485 and accredited according to ISO 17025. Biomatech in France is accredited according to ISO 17025. For more detailed information about NAMSA's testing and consulting services, please visit http://www.namsa.com.
Contact Information
For further information about NAMSA or this news release, contact:
Andrew Gottfried
Product Manager
P 419.662.4458
F 419.662.4802
http://www.namsa.com
###