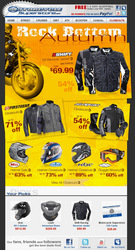 With ExactTarget's advanced email functionalities and WebTrends' integrated analytics tools, we've tested and analyzed many aspects of our overall email strategy from send frequency, day-of-week and time-of-day optimization to subject lines, layouts and advanced segmentation techniques
Medford, OR (PRWEB) September 23, 2009
Motorcycle Superstore, the leading e-tailer of motorcycle gear, apparel, parts and accessories, proudly announces the successful launch of dynamic one-to-one email merchandising. By leveraging WebTrends customer behavioral analytics with ExactTarget's cutting edge email marketing solution, Motorcycle Superstore has taken their email strategy to the next level.
For the past several years, Motorcycle Superstore has been on a mission to maximize their use of email marketing. "With ExactTarget's advanced email functionalities and WebTrends' integrated analytics tools, we've tested and analyzed many aspects of our overall email strategy from send frequency, day-of-week and time-of-day optimization to subject lines, layouts and advanced segmentation techniques," says Erick Barney, VP of Marketing for Motorcycle Superstore. "Dynamic one-to-one merchandising has been the ultimate goal of our quest and we're finally there," he exclaims.
Based on a combination of products viewed while browsing the site and products abandoned in their shopping carts, each customer receives a personal set of recommended items according to their own historical interaction with Motorcycle Superstore. This is accomplished by cross-referencing a customer behavioral data feed from WebTrends Marketing Warehouse with a product data feed from Motorcycle Superstore and all data relationships and merchandising rules are programmed within ExactTarget's platform.
Following the initial live send, with the dynamic feature enabled on only 10% of Motorcycle Superstore's active send list, the one-to-one products lifted the email's total revenue over 24%. "In our analysis, we made sure to exclude the default product referred orders so only the dynamically placed products were credited," states Sequoyah Munroe, Motorcycle Superstore's Promotional Coordinator. "As we had hoped, customers seem to react impulsively to these familiar products...this is really working," she adds.
With more testing and analyzing, Motorcycle Superstore plans to continue refining their methods and business rules related to dynamic one-to-one merchandising. Barney says the next phase will incorporate related items from their third party product recommendations engine into the mix.
Motorcycle Superstore would also like to thank Cameron Nelson of ACR Analytics for his key role in pulling this project together.
About Motorcycle Superstore, Inc.
No matter what style of motorcycle you ride, Motorcycle Superstore has the gear you need. Motorcycle Superstore offers the largest online selection of motorcycle gear, apparel, parts and accessories. You'll find the guaranteed lowest prices on everything from motorcycle helmets, jackets and boots to motorcycle tires, luggage and covers. Offering free shipping options, safe and secure ordering, and no hassle returns, Motorcycle Superstore is the premier online motorcycle outfitter. For more information, visit http://www.motorcycle-superstore.com or call 1-877-668-6872
About ExactTarget
ExactTarget, Inc. is a leading provider of on-demand email marketing software solutions. The company's on-demand one-to-one marketing applications enable clients to send business-critical and event triggered communications to increase sales, optimize marketing investments and strengthen customer relationships. ExactTarget's software powers permission-based email communications for thousands of organizations including CareerBuilder.com, Expedia.com, Florida Power & Light, Gannett Co., Inc/USA TODAY, the Indianapolis Colts, The Home Depot, The Leukemia & Lymphoma Society, Liberty Mutual Group, Papa John's, Motorcycle Superstore and Wellpoint, Inc. For more information, please visit http://www.exacttarget.com or call 1-866-EMAILET.
About Webtrends, Inc.
Webtrends is a trusted analytics advisor in the business of collecting, analyzing, delivering and ultimately transforming data into understanding. Webtrends delivers the industry's most recognized search engine marketing, visitor intelligence, and analytics solutions to enable companies to understand their customers, drive engagement, and enhance marketing and brand awareness. Thousands of global organizations, including Microsoft, Reuters, General Mills, Motorcycle Superstore and Ticketmaster have chosen Webtrends business solutions and client services expertise to optimize their customers' online experiences. Webtrends was the first web analytics company, founded over 15 years ago.
About ACR Analytics
ACR Analytics is a highly experienced consultancy that specializes in providing digital marketers the insights they need to acquire, convert and retain more customers. Marketing insight is our product. It's what you get when we combine in-depth web analytics with our insider's perspective. It's what we have provided to companies such as Microsoft, Hilton, E*TRADE, Ticketmaster, T-Mobile and many others.
###