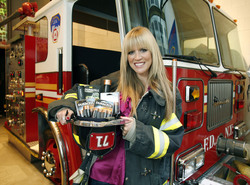 Having seen the destructive force of all types of weather, I know how important it is for families to be prepared regardless of the season
Bethel, CT (PRWEB) September 22, 2009
Driven by research that shows thunderstorms and tornadoes during fall months pose one of the greatest weather threats to power outages, Duracell picked the first day of autumn to launch its "More Power To Protect" program, pledging more than 10 million hours of battery power to communities most susceptible to these occurrences.
To help launch the campaign, Duracell has joined forces with Paige Hemmis, star of ABC Network's "Extreme Makeover: Home Edition." She's a former EMT who has seen firsthand the impact weather can have on the lives of people in every part of the country. Together, Hemmis and Duracell are inviting consumers to visit Duracell.com/HoursofPower, where the simple click of a mouse will make a donation of much needed power supplies to cities impacted the most by severe thunderstorms and tornadoes. Visitors to the site also have the power to pass on their good deed by encouraging friends and family to donate through Facebook or by using the #Coppertop hashtag via Twitter.
While other types of severe weather get the majority of media attention, thunderstorms and tornadoes can happen across a greater part of the country and are a year-round reality. Based on a study commissioned by Duracell and completed by meteorologist Dr. Robert Hart at Florida State University, people may be surprised to learn that thunderstorms and tornadoes are responsible for approximately 26.1 percent of the population experiencing outages over the last eight years - nearly equal to the population outages caused by hurricanes (26.0 percent). The five markets that will receive donations are New York, Chicago, Knoxville, Tenn., Springfield, Mo., and Wichita, Kan.
Donations will be collected through November 15, 2009, and delivered in the form of Duracell's latest products, including the Duracell Daylite LED flashlights and Duracell Instant Chargers for cell phones. The hours of power donations will go to fire departments in the five cities which will distribute them locally to help community members be better prepared.
"Today, more than any other time, people are being asked to make a choice regarding the things that are important to them," said Bob Jacobs, Duracell marketing director, North America. "Because we have no control over when and to what degree weather will impact us, Duracell wants to take some of the guess work out of being prepared. We're proud to be working with the fire departments in cities most impacted by storms to help supply their communities with the power they need to keep them feel safe and connected. Whether it's a flashlight that will cut through the darkest of nights or a portable charger that will power a cell phone when an outlet won't work, Duracell is proud to share its technology to meet the needs of families in these communities and across the nation."
"Having seen the destructive force of all types of weather, I know how important it is for families to be prepared regardless of the season," said Paige Hemmis. "While the success of 'Extreme Makeover: Home Edition' very often relies on the power of community to change the lives of one its own, what's exciting about Duracell's "More Power To Protect" program is the impact one person can have with a simple click of the mouse. This is also a great opportunity to not only help someone else but help your family as well. There's no better time for a Preparedness Kit Makeover."
Cities at Risk
To determine the five communities most impacted by thunderstorm-related outages and receiving the donation, Duracell worked with meteorologist Dr. Robert Hart, Associate Professor for Meteorology at Florida State University. After closely examining national weather and power outage data over an eight-year period (source: NERC), the study identified and ranked cities that have experienced the greatest frequency of damage associated with thunderstorms and tornadoes as well as cities with the largest population of people potentially affected by thunderstorms.
Study and storm highlights include:

New York - Lightning during a 2007 thunderstorm knocked out power to 385,000 residents, a significant event darkening a large swath of Manhattan and the Bronx for an hour (or even longer in some areas).
Chicago - In 2008, a line of severe thunderstorms rattled the city and its suburbs, starting numerous fires, blowing roofs off buildings, shutting down both metro airports, ending a Cubs game early and downing hundreds of trees and 60 power lines - causing 200,000 Chicago residents to lose their power. Storm recovery lasted almost two weeks.
Knoxville, Tenn. - In 2009, residents were hit by consecutive days of violent thunderstorms, damaging trees, flooding streets and sending firefighters racing from one lighting strike to the next. At the height of the storm, electrical service was cut off to more than 20,000 residents. With an average of 23 damage or severe reports from thunderstorms and tornadoes (defined as 58 mph+ gust winds and/or penny-sized or larger hail) annually*, Knoxville (and surrounding 30 miles) has had one of the highest frequency of damage reports due to thunderstorms and tornadoes in the nation.
Springfield, Mo. - The city's 2009 storm caught national attention as it left thousands without power and left major infrastructure damage in its aftermath. This event contributed to Springfield (and surrounding 30 miles) having the nation's highest rate of damage reports from thunderstorms and tornadoes annually, with an average of 27 each year.*
Wichita, Kan. - In 2009, the city was hit with a summer thunderstorm that included hail as large as golf balls. Strong wind damaged trees, power poles and lines. More than 2,000 residents were without power during the height of the storm. Wichita (and surrounding 30 miles) has had an average of 24 damage reports from thunderstorms and tornadoes annually.*
*Based on eight-year average from study.
Preparedness Kit Makeover
Regardless of location, a recent survey commissioned by Duracell and conducted by Harris Interactive® shows that preparedness, while important, might not be top-of-mind for all Americans. Nearly 60 percent of adults admit to not having an emergency preparedness kit and 86 percent do not think their household is completely prepared in event of losing power for more than a few hours due to severe weather conditions. In addition, 85 percent think current technology like a cell phone makes it easier to be prepared in an emergency situation - bringing to light the need to educate about the importance of creating a kit and updating it with the items today's family consider important.
"What is so great about Duracell's 'More Power To Protect' campaign is it draws attention to what it means to be prepared in today's technological world," said Hemmis. "Today's kit should go beyond a radio, water, food and medicine. For fire safety reasons, forgo candles and make sure you have a powerful flashlight. Plus, the ability to stay connected when you lose power is more important than ever, and Duracell knows it's little things like a fully-charged phone that keeps people feeling safe."
Additional preparedness tips can be found at Duracell.com/HoursofPower and Duracell.com on mobile phones, including:

To be fully prepared for severe weather it is recommended to have enough supplies for 72 hours.
Supplies should include Duracell Ultra Advanced batteries, flashlight, portable radio, non-perishable packaged or canned food, bottled water, baby food/formula, pet food, first-aid kit, medicine/prescription drugs, extra cash and personal-identification documents.
Lanterns and Duracell Daylite flashlights are safe alternatives to candles.
It is also becoming more important to have portable electronic devices such as cell phones, Blackberries, MP3 players, and portable gaming devices operating at peak performance during outages. Duracell's full line of Lithium Ion chargers: Pocket Charger, Instant Charger and Powerhouse Charger allow families to stay connected to what matters most to them.
Methodology
Historically, thunderstorms and tornadoes are among the leading causes of weather-related power outages across the United States (source: NERC). To determine five cities named vulnerable to storm-related power outages, Duracell and meteorologist Dr. Robert Hart, Associate Professor for Meteorology at Florida State University, closely examined historical data from the NERC, National Oceanic & Atmospheric Administration/National Weather Service Storm Prediction Center (SPC) over an eight- year period. The United States was divided into longitudinal and latitudinal cells measuring approximately 25-35 miles per side, analyzing storm damage from thunderstorms and tornadoes (such as power lines down, trees down and structural damage to buildings) in each area as well as reports from weather stations of severe threshold (58 mph wind gusts or ¾" hail). This allowed for the development of a map spotlighting three cities (Knoxville, Tenn., Springfield, Mo. and Wichita, Kan.) that have the highest risk of damage caused by thunderstorms and tornadoes as well as two locations (New York City and Chicago) where power outages due to thunderstorms and tornadoes put large populations at risk. While hurricanes, earthquakes, and heat waves are other top contributors to power outages, their historical records of localized damage on the street level are not nearly as complete.
About Duracell
Part of the Procter & Gamble Company [NYSE:PG], Duracell has been powering the needs of people around the world for more than 40 years. Our products serve as the heart of devices that keep people connected, protect their families, entertain them and simplify their increasingly mobile lifestyles. As the world's leading manufacturer of high-performance alkaline batteries, Duracell also innovates in disposable, renewable and peripheral technologies and markets general purpose flashlights along with the advanced Daylite® LED flashlights. Visit Duracell.com for more information.
About Procter & Gamble (NYSE:PG)
Three billion times a day, P&G brands touch the lives of people around the world. The company has one of the strongest portfolios of trusted, quality, leadership brands, including Pampers®, Tide®, Ariel®, Always®, Whisper®, Pantene®, Mach3®, Bounty®, Dawn®, Gain®, Pringles®, Charmin®, Downy®, Lenor®, Iams®, Crest®, Oral-B®, Actonel®, Duracell®, Olay®, Head & Shoulders®, Wella®, Gillette®, and Braun®. The P&G community consists of 138,000 employees working in over 80 countries worldwide. Please visit PG.com for the latest news and in-depth information about P&G and its brands.
About the Duracell/Harris Interactive Preparedness Survey
This survey was conducted online within the United States by Harris Interactive on behalf of Duracell from June 16 to 18, 2009 among 2,048 adults ages 18 and older, of whom 2,003 have ever lost power due to severe weather. This online survey is not based on a probability sample and therefore no estimate of theoretical sampling error can be calculated. For complete survey methodology, including weighting variables, please contact Kurt Iverson or Jessica Johnston.
###