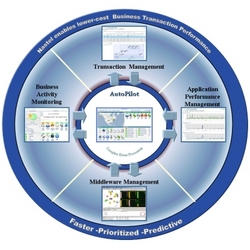 For us, Severity 1 is not being able to sell products or get them out of the door. Severity 1 problems cost us between $750,000 and $1.5 million per incident
Melville, NY (PRWEB) September 23, 2009
A major technology infrastructure manufacturing and distribution company recently recognized that its homegrown solution for monitoring queues on Microsoft MQ was not notifying the operations team of broken transactions, costing the company between $750,000 and $1.5 million per incident. The company's Senior Operations Manager had to replace the solution, which was outdated and expensive, with a more effective platform that would give the operations team better visibility across the 300+ applications that it monitored.
"For us, Severity 1 is not being able to sell products or get them out of the door. Severity 1 problems cost us between $750,000 and $1.5 million per incident," claimed the Senior Operations Manager. "Severity 2 is system degradation. There would be cases where the MQ queue was backing up, but we couldn't tell because our old tool couldn't see it."
To relieve the financial pressures of the in-house program, the Senior Operations Manager implemented Nastel AutoPilot, an application performance management solution that helps its customers reduce operational costs through predictive determination of application performance issues and their potential business impact. AutoPilot customers are able to spend more time acting to prevent problems and less time reacting to fix them. This improves enterprise effectiveness through real-time identification of stealth waste in business processes, resulting in less need to purchase expensive additional hardware in hopes of solving performance problems and allocating significantly fewer hours to resolve application degradations and outages.
The Nastel AutoPilot installation was integrated with BMC Remedy (for trouble-ticket notification) and configured for the 300+ applications the customers uses. Of these, 275 are custom applications. Nastel provided education and training, as well as CTO-level support.
Following the successful implementation of AutoPilot, the company was able to save an estimated $15,850,000 annually that was usually lost in Severity 1 problem solving. An additional $350,000 was saved on workforce requirements, and improvements in customer satisfaction, service and business flexibility round out the implementation's soft ROI benefits.
The Senior Operations Manager added: "Nastel Autopilot was a tool that we were able to utilize along with our own business expertise to deliver much more reliable services to the business. We wanted to become more proactive and to be notified of a problem before we hit the pain points. This has relieved the stress on my team, and removed a ton of stress on the business side. It has allowed us to manage into the 21st century versus 1970."
About Nastel AutoPilot
Nastel AutoPilot provides businesses with 360° situational awareness of both operational and transactional data, reduced transactional latency and improved business transaction performance ™ to ensure optimum service levels while eliminating the hidden costs, or "stealth waste," in business processes. AutoPilot's capabilities for transaction management, automated root cause isolation, performance analysis and determination of business impact enable its users to improve business process efficiencies and service levels while reducing cost and managing risk.
About Nastel
Nastel Technologies is a premier global provider of business transaction performance ™ solutions for mission-critical applications. Nastel is a privately held company headquartered in New York, with offices in the U.S., the U.K., Germany and Mexico, and a network of partners throughout Europe, the Middle East, Latin America and Asia. For more information, visit Nastel's website at http://www.nastel.com.
Nastel®, Nastel AutoPilot®, AutoPilot M6®, AutoPilot TransactionWorksTM , Business Transaction PerformanceTM and BTPTM are wholly owned trademarks of Nastel Technologies, Inc. in the U.S. and other countries. All other company and product names may be the property of their respective owners and are used here for reference and informational purposes only.
###