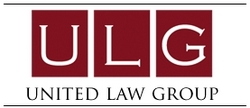 United Law Group is actively recruiting personnel to help its clients deal with fallout from the mortgage crisis
Irvine, CA (Vocus) September 23, 2009
United Law Group, the leading provider of legal foreclosure prevention and foreclosure litigation services today announced its participation in the Camp Pendleton Fall Career Fair. The event will be held this Thursday, September 24, 2009 from 10:00 AM to 3:00 PM, at the South Mesa Club, Building 202850.
The semi annual Camp Pendleton Career Fair hosts over 100 employers. The event offers major companies within high-growth, high-demand industries the opportunity to connect with veteran military personnel who are actively seeking positions. United Law Group hopes this event will support its efforts to hire additional employees to help distressed homeowners from its Irvine, CA offices.
"United Law Group is actively recruiting personnel to help its clients deal with fallout from the mortgage crisis," said Vito Torchia, attorney for United Law Group. "The U.S. Congress recently managing subcommittee held a hearing on September 9, 2009 to evaluate the effectiveness of the Making Home Affordable (MHA) program. There is more pressure than ever on banks to prove they are working with homeowners. United Law Group needs additional staff to support troubled homeowners."
Bloomberg recently ran a story on the outcomes of a recent report, which notes alleged issues with the biggest banks, including Bank of America and Wells Fargo. Increased scrutiny increases the pressure on banks to help homeowners seeking to prevent foreclosure via to loan modification. United Law Group works directly with lenders and servicers to prevent foreclosure on its clients.
Every April and September the Transition and Employment department hosts the MCCS Career Fairs. The event brings in local, state and national employers. Spouses new to the area and transitioning service-members seeking employment are expected to be on hand.
For additional information call Camp Pendleton Career Resource Center (760) 725-4737 or (760) 725-4199.
About United Law Group
United Law Group is a national law firm with offices in California, New York, Florida, Ohio, Nevada & Arizona. It is the largest foreclosure prevention and litigation firm in the country with attorneys licensed in every state. Dedicated to helping homeowners facing hardships to keep their houses, United Law Group uses legal channels to compel banks to modify adjustable-rate to fixed-rate mortgages, reduce principal and interest, and create other fair solutions between the lender and borrower.
For further information on United Law Group call Corvi Urling, Executive Consultant for United Law Group at (800) 680-5717.
# # #