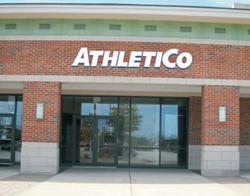 AthletiCo brings individualized and cost-effective physical therapy to Elk Grove Village, and the community will benefit from AthletiCo's expertise in treating everything from general outpatient orthopedics to the complex issues of the injured worker
Oak Brook, IL (Vocus) September 28, 2009 —
AthletiCo, an Illinois-based leader in physical therapy and occupational therapy, opens its 53rd center at 990 Elk Grove Town Center in Elk Grove Village. AthletiCo Elk Grove Village's services include Physical Therapy, Occupational/Hand Therapy, Work Rehabilitation, Work Conditioning, Functional Capacity Evaluations, and Massage Therapy.
With the opening of the Elk Grove Village center, AthletiCo named Mike Zubelik, PT, to the position of Facility Manager.
As a Marquette University graduate, Zubelik is well versed in both general orthopedics and work rehabilitation and brings four years of managerial experience to AthletiCo's newest location. Having worked out of AthletiCo's LaGrange, River Grove, and Hoffman Estates locations before coming to Elk Grove Village, Zubelik is looking forward to delivering the same quality healthcare that AthletiCo has been providing Chicagoland for the past eighteen years.
"AthletiCo brings individualized and cost-effective physical therapy to Elk Grove Village, and the community will benefit from AthletiCo's expertise in treating everything from general outpatient orthopedics to the complex issues of the injured worker," says Zubelik. "I look forward to bringing my years of experience in orthopedics to help improve the health and wellness of the Elk Grove Village community."
Patients at AthletiCo Elk Grove Village will have access to AthletiCo's industrial rehabilitation specialists, physical therapists, certified athletic trainers, and occupational/hand specialists who work with many of the local physicians in the Elk Grove area.
For more information about AthletiCo Elk Grove Village or to schedule a complimentary injury screening, please contact Mike Zubelik at 847.290.1111 or via email at mzubelik at athletico dot com.
AthletiCo Elk Grove Village
990 Elk Grove Town Center
Elk Grove Village, IL 60007
Phone: 847.290.1111
Fax: 847.290.1065
Since 1991, AthletiCo has been the proud provider of rehabilitation, fitness, and performance services to many professional teams, performing arts companies, endurance programs, golf associations, volleyball clubs, high schools, colleges, and events in Chicagoland and Central Illinois.
AthletiCo provides orthopedic rehabilitation including physical and occupational therapy, work rehabilitation, performing arts rehabilitation, women's health therapy, spine control, pediatric physical therapy, vestibular rehabilitation, and athletic training. Expanded services include performance enhancement, fitness center memberships, golf fitness, endurance, nutrition, and massage therapy.
AthletiCo accepts all indemnity, PPO, POS, and WC plans including BC/BS, Humana, Medicare, Aetna (PPO/HMO), PHCS, UHC (PPO.HMO) and many others. As a courtesy to our patients, we verify insurance coverage.
AthletiCo Toll-Free Injury Hotline, 877-ATHLETICO (1-877-284-5384)
###