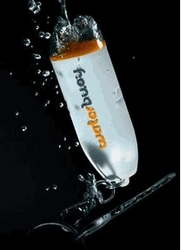 you've gotta be kidding me
Tampa, FL (Vocus) September 25, 2009 –-
Marinemart.com, distributor of the most innovative boating supplies, is proud to announce the Waterbuoy object survival device for any waterside operation. Whether on the ocean, in the middle of a lake, or fishing off a pier or dock, no one has to worry about losing key items and personal valuables in the water ever again.
The common boater has a traffic cone sticking out of their pocket which supposedly keeps their keys afloat when they sneak overboard. That no-tech device, besides extremely weight-limited, is simply useless at night. And what about Johnny fisherman's expensive Penn reel that his buddy's son lost in the lake when the boy went fishing for the first time on Johnny's boat? Doesn't every seasoned boater still have nightmares about their favorite tool flipping into the watery abyss?
Forego the risk and stress and welcome to WaterBuoy, presented by Marinemart Boating Accessories. This product gives unequaled peace of mind, all for less than ten bucks. PDAs and handheld GPS units in dry bags, keys, critical tools, and more can all be protected by Waterbuoy. Having a waterproof radio is solid planning, but not if it floats like a brick. Since operable radios on the river floor aren't much use, save them with Waterbuoy.
Waterbuoy uses exciting and recently patented technology to detect submersion, trigger a safe gaseous discharge into a heavy-duty balloon, bring any item weighing 2.2 pounds or less safely to the surface, then initiate a flashing beacon that can be seen from over 800 feet away.
The professional mind readers at Marinemart Boating Supplies know what people are thinking, and they don't have to worry. The Waterbuoy is completely splash-resistant. The space-aged trigger has to experience total submersion for a few seconds before activating the "you've gotta be kidding me" sequence. Boaters even score huge fashion points with this device. It's sleek, compact, and beautiful. Get the new Waterbuoy today for less than $10 and never feel embarrassed again because of that colossal plastic cork dangling from a belt loop.
For a live demonstration and immediate purchase, please visit the friendly folks from Marinemart Boating Accessories at the Tampa State Fairgrounds on October 16th, 17th, or 18th. Or see Marinemart.com for an internet presentation.
Marinemart originated from the heart and soul of boating enthusiasts in mid 2009. Based out of Tampa, Florida, and with the support of an international technology company, Marinemart.com seeks a new standard as an on-line marketplace. The excitement is viral once people get to know Marinemart. Introducing brand new items to America, like the amazing new Waterbuoy, is a perfect example. The Marinemart experience simply offers higher value at a price comparable to traditional boat supply outlets. Don't spend hours surfing the web for an item offered by some fly-by-night vendor. Log on and be part of the most expansive boating supplies venue. Relax, it's Marinemart.
###