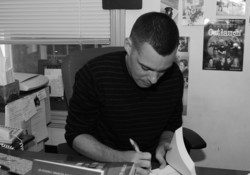 A writer always hopes to connect with an audience, but I'm very lucky to see this much interest so far.
Philadelphia, PA (PRWEB) September 23, 2009
Local gay bookstore Giovanni's Room, which is currently undergoing renovations to rebuild a brick wall that is threatening the building's stability, got a boost of support this weekend with the book signing event for Fredric Joss Shelley's latest novel, The Alphabetical List of Would-Be Princes. The new release from Shelley, which follows up his successful debut, A Boy Less Ordinary, drew a large crowd, many of whom waited in anticipation by lining up outside of the oldest operating gay and lesbian interest bookstore in the country.
"It's overwhelming to see this kind of reception," Shelley stated. "A writer always hopes to connect with an audience, but I'm very lucky to see this much interest so far."
Shelley's latest novel is a romantic comedy told in twenty-six chapters, from A to Z, with each chapter devoted to a character (a "would-be" prince) that intersects with the romantic lead. Already on the best-seller list at Giovanni's Room, The Alphabetical List of Would-Be Princes has been generating a quiet buzz for weeks. Shelley credits his success to strong media support.
"Philadelphia's LGBT community has a really strong network devoted to giving artists like myself a much-needed boost," Shelley said. "Many people struggle to get their work seen or heard, so I'm very fortunate to have had such tremendous support from the community. That's certainly not something to take for granted."
Shelley is best known to the Philadelphia arts scene for his formerly syndicated column Six Degrees of Hayden, as well as his writing and acting work with local theater groups like The Dumpsta Players and Uncut Productions. His appearance at Giovanni's Room, which was a hotly anticipated event, brought out even more numbers than the bookstore had expected.
"We're very honored to have Fred here as one of Philly's great talents. Tonight's response shows how much people think of him as both an artist and a person," Giovanni's Room owner Ed Hermance said.
According to Shelley, the feeling is mutual.
"Giovanni's Room has always been supportive of the things I've done, from charity functions to keeping my books in stock on the shelf. I'm really excited to have this kind of response so I can be there for them just as they have been there for me."
Readers turned out in abundance to support the author as well as Giovanni's Room, which began renovations just a few short weeks ago. The bookstore, founded in 1973, is hoping to raise an estimated $50,000 to cover the cost of the renovations.
When asked what's next on Shelley's plate, the ambitious author mentioned work on his already-in-progress third novel, as well as supporting his fellow artists.
"There's always something going on with the artistic company I keep. I can't wait to see what they are going to create in the coming months. But after all this excitement tonight, I'm just hoping the adrenaline doesn't keep me up too late. I'm looking forward to a good night's sleep - preferably with lots of pillows."
The Alphabetical List of Would-Be Princes is now available locally at Giovanni's Room and online on Amazon.
ISBN: 978-0-557-08571-2
Publisher: Lulu.com
Format: 6" x 9" paperback, $16.
###