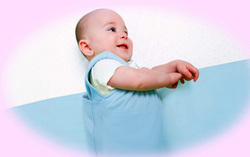 Our partnership with Target.com allows us to expand our reach to parents who are committed to ensuring their infants sleep safely on their backs throughout naptimes and the night
Wilmington, DE (PRWEB) September 23, 2009
Infant sleep safety system Baby Sleeps Safe is now available to new parents for purchase at Target.com. The patented Baby Sleeps Safe product is designed to keep babies sleeping securely on their backs, a measure strongly recommended by American Academy of Pediatrics (AAP) to safeguard babies against Sudden Infant Death Syndrome (SIDS).
"Our partnership with Target.com allows us to expand our reach to parents who are committed to ensuring their infants sleep safely on their backs throughout naptimes and the night," states Baby Sleeps Safe President Dr. Vicki Folds, Ed.D., a leading child development expert with 35 years of hands-on and research experience and several published child development books to her credit. "Many parents and pediatric professionals agree that Baby Sleeps Safe is a convenient, easy-to-use product that does exactly what it says. It allows babies to sleep safely and soundly while easing parents' worries."
Invented by a mother and perfected by child development experts, the Baby Sleeps Safe system consists of two companion pieces, a Sleep Panel and Sleep Pouch, which work together to position babies on their backs and prevent them from rolling onto their stomachs while sleeping. The Sleep Panel is soft and pliable and is easily secured around a standard-size crib mattress fastened end-to-end with Velcro. The sleeveless and collarless Sleep Pouch allows free movement from side-to-side supporting motor skill development and features a convenient zip-up bottom. The companion pieces attach together by joining the large Velcro patches at the center of the Sleep Panel and back of the Sleep Pouch forming a cross.
Baby Sleeps Safe is a recipient of The National Parenting Center's (TNPC) Seal of Approval. TNPC's Seal of Approval testing involves a multi-step process conducted over an eight week period. Staffed by volunteers, the testing facility of TNPC gives parents, children and educators the opportunity to examine a variety of submitted products.
Available in blue, pink, yellow and cream, Baby Sleeps Safe fits infants up to 9 months. Order online at BabySleepsSafe.com or Target.com or by calling (877) 804-0008.
###