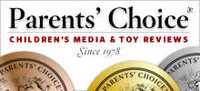 Lutherville Timonium, MD (Vocus) September 23, 2009
Learning to read is a skill but loving to read is a way of life. Not only is reading fundamental for developing knowledge and creativity but it can open windows to new worlds both at home and at school. A book is a science laboratory, an art museum, a guided tour through history, a great friend. Books put the magic in the carpet ride.
To help encourage healthy reading and learning habits and celebrate National Literacy Month - this month and every month - Parents' Choice Foundation offers the following tips and tools for parents of children all ages:

Set aside a special time each day to read with your child, either aloud or independently. Your child will soon make the connection between the pleasure of undivided attention and the pleasure of reading. Check out these read-aloud suggestions for every age and interest: Read Aloud Suggestions
Visit the library often to encourage good reading habits for your child while setting a good example by selecting a few books for yourself.
Take a trip through the pages of these Parents' Choice recommended books available at your local library: Parents' Choice Recommended Reading
Use reading time as an opportunity to teach your child about subjects that may not be part of daily conversations such as other cultures, history and geography. The story of immigration is often a memoir about childhood; learn more about books on this topic: Books on the Topic of Immigration
Surround your children with reading material by building a home library together. It doesn't have to be fancy; it could be a corner in a family room or a special shelf in a child's bedroom. Think about collecting the classics; you might even discover a forgotten yearning in yourself for a long lost favorite. Browse these Parents' Choice Award-winning books for all ages: Parents' Choice Award-Winning Books
Read the book then see the movie. Learn more about four children's films making a splash this year and the stories they are based on: Books Based on Movies
Take advantage of opportunities that arise as a part of everyday life to help your child acquire greater literacy skills while cooking, exploring the neighborhood and reading the newspaper. Is your child a reluctant reader? Nationally and internationally recognized experts offer the following selections to entice even the most unenthusiastic children: Encouraging the Reluctant Reader
Look for alternative ways to encourage reading. These word-centric games and software programs focus on fun while helping to build important language skills. Games and Software to Encourage Reading
For additional resources, guides and reviews, visit http://www.parents-choice.org/
About Parents' Choice Foundation
Parents' Choice Foundation is the nation's oldest and most respected nonprofit guide to quality children's media and toys. An independent testing and information organization since 1978, Parents' Choice is dedicated to providing trusted recommendations for books, toys, music, video games, digital media and more.
We review, evaluate and recommend products that help kids grow – imaginatively, physically, morally and mentally – fairly priced products that are fun, safe and socially sound. The Parents' Choice website, a public service resource, serves as a clearinghouse for children's media and toys. For more than 30 years, parents, grandparents, educators, librarians and healthcare professionals have relied on Parents' Choice for suggestions to help foster an environment for kids to read more, play more and learn more.
###