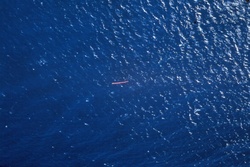 We knew they were there, but we just couldn't see them.
Honolulu, HI (PRWEB) September 24, 2009
Rescue Technologies Corporation announces that the Military-Approved RescueStreamer® Signal Marker technology is now available with Retro-Reflective capability. RescueStreamer® Signal Marker has been reported to have saved lives.
Persons lost at sea can now signal their rescuers during day or night hours with the only "continuous" signaling device that is completely "passive" (no batteries, chemicals, or electronics)!
Numerous boating and aviation accidents in the recent past indicate an alarming trend where survivors were flown over by Search and Rescue but not seen in the water. After survivors were recovered by other means it was discovered they had been flown over, in some cases more than once. Most recently off the Texas shoreline, this trend was repeated once again indicating the need for some type of visual aide for Search and Rescue to see and rescue survivors at the first possible opportunity.
EXAMPLES OF PROBLEM:
1) "Hall and Hawkins (Texas Survivors) both said they saw U.S. Coast Guard helicopters and rescue planes fly over. The Coast Guard, which gave up the search after the men had been missing a week, never saw them."
2) "We knew they were there, but we just couldn't see them." (Coast Guard Spokesperson) "It was very frustrating. We kept wondering why they couldn't see us." (Texas Survivors)
3) "Why didn't they see us?" "They were right on top of us!" "From the air, we're just little specks…without a way to signal..."
4) "I spotted a helicopter four times - realizing they were close enough you could almost throw something and hit the helicopter, they were right overhead and they couldn't see us."
Read the Rescued Texas Boaters Article.
RescueStreamer® Signal Marker locates persons lost at sea or on land by providing a continuous visual signal without the need for batteries, chemicals or electronics!
In U.S. Military tests, RescueStreamer® Signal Marker was visible from over a mile away at an altitude of 1500 feet! They described RescueStreamer® Signal Marker as "the only Passive and Indefinite Signaling Device" that will likely Increase Survivor's Probability Of Detection and Rescue."
"YOU'VE GOT TO BE SEEN TO BE RESCUED!"
See RescueStreamer® at NASBLA 2009.
See the RescueStreamer® video demonstration.
To order visit our website at http://www.RescueStreamer.com
###