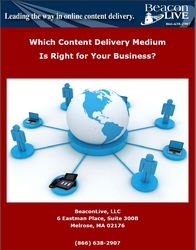 Which Content Delivery System is Right for Your Business?
Melrose, MA (PRWEB) September 25, 2009
BeaconLive, a leader in audio conferencing and web conferencing services, has published a well-received white paper designed to help organizations decide which online delivery medium will serve them best as they offer content to various audiences.
The white paper, entitled "Which Content Delivery System is Right for Your Business?", discusses the different mediums for content delivery, including audio conferences, web conferences, webinars, video conferences, and on-demand playback. It provides the pros and cons for each, as well as examples of industries for which a particular modality might be best suited.
"Our hope is that this resource, offered free on our website, will serve as a guideline for organizations that may be struggling with how to deliver their content most effectively," said BeaconLive President and CEO John E. Duplin, Jr. "We're very pleased that so many individuals have chosen to visit our site to secure the white paper. Besides providing state-of-the-art technology tools, we like to serve as partner in our clients' success, and our entire online Resource Center helps us do that."
About BeaconLive:
Based just outside of Boston, Massachusetts, BeaconLive partners with its customers and helps them deliver flawless online content through a variety of mediums, including audio conferencing, web conferencing, webinars, and other online events. Known for treating every event like a production, BeaconLive uses and invests in innovative technology to ensure its customers' needs are met every time. With over 20 years in the business and 20,000 events produced, BeaconLive is considered one of the top leaders in online content delivery today. To learn more about the audio and web conferencing experts, visit BeaconLive's website today: http://www.beaconlive.com.
###