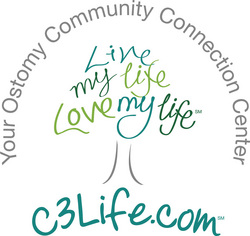 Libertyville, Illinois USA (PRWEB) September 29, 2009
C3Life.com℠, a community website for people with ostomies, their caregivers, and loved ones will be supporting Get Your Guts in Gear, Inc.'s inaugural Midwest bicycle ride - to take place October 2-4, 2009. Paris Purnell, moderator of the ostomy website's discussion forum, will be participating in the three-day, 210-mile ride and blogging about his experiences before, during, and after the event.
Get Your Guts in Gear (GYGIG) seeks to empower the ostomy, Crohn's, and colitis communities while raising money for nonprofit organizations that support patients and educate the public about inflammatory bowel disease (IBD, the collective term for ulcerative colitis and Crohn's disease). IBD affects at least 1.4 million people in the United States.
The Midwest GYGIG Ride will kick off at the headquarters of Hollister Incorporated, a leading manufacturer of ostomy products, located in Libertyville, Illinois. From there, the ride will wind its way through the farmlands of northern Illinois and southern Wisconsin before it loops back and ends with a congratulatory barbecue at Adler Park in Libertyville.
Purnell, a first-time rider, is originally from Australia. He is the moderator of the C3Life.com stoma discussion forum - where people with ostomies can share their thoughts, questions, and experiences. He also is a former Stoma Care Nurse who is very familiar with the effects of IBD on patients, as well as their loved ones.
"I'm proud to be participating in a ride that supports such a worthy cause," said Purnell. "I've never ridden this many miles in such a short period of time, so my blog entries should be interesting. I hope all my training has prepared me well - so I can make it to the finish line!"
Jay Pacitti, one of the founders of Get Your Guts in Gear, was diagnosed with Crohn's disease in 1999. "I rode in a few AIDS rides and eventually I started thinking, why isn't there a ride and a community like this for people with my disease?" said Pacitti. "People like Paris Purnell have made that dream a reality for the past five years."
Since 2004, GYGIG participants have raised over $1.25 million to help fund IBD advocacy, research, awareness, and empowerment projects throughout the United States.
http://www.C3Life.com
http://www.IBDride.org
Get Your Guts in Gear, Inc. (GYGIG) is a charitable organization created to raise awareness about Crohn's disease and ulcerative colitis. It raises funds for like-minded charities that support research, education, and patients who are living with inflammatory bowel disease (IBD) or ostomies. Its mission also includes empowering individuals through participation in large-scale athletic events in a supportive, community atmosphere.
C3Life.com is an ostomy online community, dedicated to helping people with ostomies live their lives to the fullest. It features information on lifestyle topics, ostomy-related issues, products, news, and events. Members can pose ostomy-related lifestyle and product questions to a panel of clinicians, share their thoughts within an interactive forum, and submit personal stories, photos, videos, and more. C3Life.com is supported by Hollister Incorporated.
© 2009 Hollister Incorporated.
###