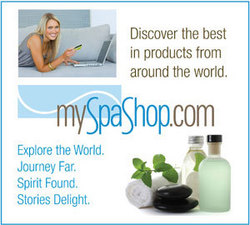 More than 50% of luxury travel is now booked on-line, which is a dramatic shift within the past 5 years. Spa Consumers want to customize their entire spa experience at home and on the road
New York, NY (PRWEB) September 24, 2009
mySpaShop.com (mSS), the web's first virtual spa, today announced that it has tapped Spa Booker to provide an appointment booking solution for its online customers. SpaBooker will be mySpaShop.com's exclusive online booking agent for spa treatments allowing mySpaShop.com consumers access to over 1,000 SpaBooker spas.
"More than 50% of luxury travel is now booked on-line, which is a dramatic shift within the past 5 years. Spa Consumers want to customize their entire spa experience at home and on the road," said Kimberley Matheson Shedrick, Founder of mSS and President of Natural Resources Spa Consulting, Inc. "We are proud to be partnering with SpaBooker and helping consumers explore their personal spa journey by not only finding the best spa products - but now also through Spa Booker, to book personalized treatments at spas globally."
SpaBooker functions like the "OpenTable" of spas and salons: consumers can not only book times, they can research menus and pricing and select specific treatments - from a Thai massage - to a salt scrub - to an oxygen facial. Users simply pick a location, view service availability for their chosen day and time, choose the exact treatment they want, and reserve their appointment securely with a credit card or SpaFinder gift certificate. The appointment is then confirmed instantly.
Fueled by the "Do it Yourself-Home" (DIY) and Wellness phenomenon, mSS is an online marketplace for thousands of spa products including hard to find products and home spa treatments that are usually only available at global spas. mSS also serves as an online forum where members of the spa community, from experts to consumers, can discuss all things spa. The addition of SpaBooker's online booking ability allows mSS to offer visitors to the site spa treatments as well as its wide selection of spa products. Designed by spa consultants, mSS offers "How to Blogs" from over 40 lifestyle advisors and a distinctive collection of over 2,000 boutique products. There is also an Artisans Gallery featuring art, sculpture and gifts.
mSS helps consumers worldwide lead the spa lifestyle and is accessible to anyone, anytime, anywhere. To join the mSS community and earn a 10% discount coupon (mss1), simply register with mSS and gain the opportunity to earn additional rewards with purchases and referrals to friends. If serving the lifestyle needs of the Consumer, please consider joining mySpaShop's generous Spa Affiliate program to earn commissions on sales, while taking advantage of branded online marketing services.
About mySpaShop: mySpaShop.com is the Web's first virtual spa offering everything you need to lead the spa lifestyle -- accessible to anyone, anytime, anywhere. mySpaShop.com brings together experts, treatments and shopping for the newest spa products and lets the spa community share personal stories. Top spa lifestyle advisors and beauty professionals educate site visitors on "Do it Your Self" healing rituals, massages and facials, home fitness and nutrition, turning the bathroom into a spa, bathing as therapy, cleansing, meditation, healthy living and beauty therapies. Users will find nutritional and weight loss advice and more than 2,000 of the newest spa products and skincare lines including many now only available at destination spas. Visitors will also find a community of like-minded people where they can share their stories and get peer support. mySpaShop is the creation of Kimberley Matheson Shedrick, CEO of Natural Resources Spa Consulting, Inc. (NRISpa.com), a leading spa consultancy whose high-end clients include Ritz-Carlton, Trump, Cuisin Art Resort and Spa in Anguilla, the Lapis Spa at Fontainebleau Resort in Miami Beach and the Four Seasons Hotels in Toronto, Moscow, New York City and Vail.
About SpaBooker: SpaBooker, a division of global spa resource SpaFinder, Inc., is a leading business management and online booking solution that connects customers from across the Internet directly to a spa's appointment book, allowing spa-goers to view available treatments and times and book live, verified appointments. Businesses can also use the included booking engine and eCommerce solution on their own websites at no additional cost.
SpaBooker is a comprehensive spa software solution that puts all the tools a business needs a mouse-click away. SpaBooker is equipped with a complete point-of-sale (POS) system with fully integrated credit card processing, cash handling and inventory management. In addition, the credit card processing feature comes with some of the lowest merchant rates in the industry. The robust reporting options offered by SpaBooker also allow the instant export of financial information to QuickBooks and other back-office accounting systems.
###