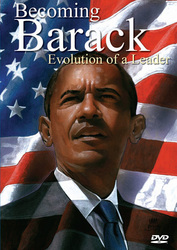 New York, NY (PRWEB) September 24, 2009
In what appeared to be a short passage of time, Barack Obama captivated the imaginations of the American public as well as the world stage with his inspired promises of change, and a charisma that motivated both the youth and the disenfranchised to turn out in record numbers at the voting polls. Obama became the odds-defying, history-making first African American to become President of the United States. As the whirlwind slowed, many were left wondering, "How did it all happen?"
"Becoming Barack: Evolution of a Leader" - a powerful 55-minute documentary from Executive Producer Stuart A. Goldman, produced and directed by Robert Yuhas, being released by Little Dizzy Home Video November 3rd cuts to the core of the cool, revealing the family foundation, steadfast principles and the path of selfless honor that led a biracial boy from the last state admitted into the union to attain the first seat of power in his country's cabinet. With Obama now on the front lines, enduring heavy often undue scrutiny, this impeccably timely film establishes the altruistic foundation on which he stands.
Key to telling this story is footage from three of the earliest known recorded interviews with Obama, including a never-before-released videotape from 1993 when 32 year-old Harvard Law graduate Obama was in his second year as a Professor of Constitutional Law at the University of Chicago, purposefully building a track record of public service as a community organizer. Naturally, it was within the black community that he initially tested his prospective possibilities for progressive politics, but Obama swiftly extended his outreach to the needs and rights of all. The first major step: three terms in the Illinois Senate. In this insightful film, we see the roots of a revolution - how Barack Obama learned to analyze and strategize his way to his idealistic global goals via "The Audacity of Hope."
Young Barack Obama is colorfully brought to life through a score of profound, poignant and often humorous interviews with people who worked closely with him on a grassroots level and were among the first to see and shape his undeniable light. These people include Obama's half sister Auma in Kenya who enlightened him about his African heritage, Jerry Kellman who brought Barack to Chicago for his first community organizing position (indoctrinating him in the shrewd political tactics of Saul Alinski who defines true power as the ability to work in concert with others), Judson H. Miner, the civil rights organizer who hired young Barack right out of law school for the firm of Miner, Barnhill & Galland in Chicago, and many more. One early observer marveled, "It was so unusual for someone so young to already be so concerned about other people" - a statement that foreshadows Obama's higher destiny.
Through it all we learn that President Obama was on an inevitable path to leadership based on his firm grounding in the unification and empowerment of everyday people. Buoyed by these interviews, amazing archival footage and photographs, excerpts of Obama reading from his audio book Dreams of My Father, and supremely patriotic cover art by esteemed illustrator Matt Busch, "Becoming Barack: Evolution of a Leader" definitively captures the hard work, compassion and dignity of the President as a young man in a dynamic presentation that will rivet viewers of all ages.
The musical companion to this documentary is an uplifting soundtrack produced by Michael B. Sutton and featuring high quality new artists from the roster of his Little Dizzy Records company. The 10-song CD features singers Dionyza, Angie Whitney, Timothy Bloom, Brenda Sutton Turner, Jack Freeman, Michael Norfleet and Michael Sutton himself, as well as rapper Yves Saint. Selections range from the propulsive dance number "Let's Talk About It" and the penetrating commentary piece "Obama's Theme (We Don't Belong Here)" to the softer, compassionate pieces "Can't We Get Along" and "I've Always Wanted To." Sutton also reached back to arrange fresh versions of three civil rights era classics from the pen of the late, great Curtis Mayfield - "We're a Winner," "Choice of Colors" and "This is My Country" - that still remain pertinent to this day.
Becoming Barack: Evolution of a Leader is available on DVD for $19.99 and the companion soundtrack CD is available for $13.98. This film is presented in Letterbox with an aspect ratio of 4:3.
Tastemaker screenings for the documentary are tentatively being planned for Fall 2009 and early 2010 in Chicago, Washington, D.C., Los Angeles, Atlanta, Philadelphia and New York.
Becoming Barack: Evolution of a Leader (DVD & CD) in stores November 3rd.
For more information, contact: J'ai St. Laurent-Smyth, Inque Public Relations, 732.254.0607
http://www.littledizzyhomevideo.com
###