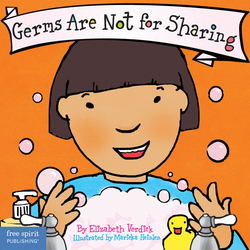 Hits the bulls-eye with an important message to all children. Bravo! Well done!
Minneapolis, MN (Vocus) September 24, 2009
Sneezes, coughs, runny noses, spills, and messes are a fact of everyday life with children. No parent wants to see his or her child get sick. Plus, a child's illness quickly unravels schedules, disrupts classrooms, and compels parents to miss work. That's why it's never too soon to teach little ones about germs and ways to stay clean and healthy.
Two classic books from Free Spirit Publishing by Elizabeth Verdick and illustrated by Marieka Heinlen show kids and toddlers how to get rid of pesky germs and keep them from spreading.
The Germs Are Not for Sharing board book ($7.95) is for the baby and preschool set. Rather than focus on what germs are, this book teaches the basics of not spreading them: how to turn away and cover up a sneeze or cough, blow kisses when sick instead of making contact, and most of all, wash those hands!
Germs Are Not for Sharing (paperback, $11.95) helps kids ages 4 to 7 understand what germs are, what they can do, and why it's so important to cover them up, block them from spreading, and wash them down the drain. Simple words and full-color illustrations show real-life situations kids can relate to.
Whether at home, on the playground, at childcare, or at preschool, kids everywhere need to get the message that although not all germs are bad, they're still not for sharing.
Praise for Germs Are Not for Sharing:
"Hits the bulls-eye with an important message to all children. Bravo! Well done!" -- Philip M. Tierno Jr., Ph.D., author of The Secret Life of Germs, and Director of Clinical Microbiology and Immunology, New York Medical Center
"This book should be included in every pediatrician's and family physician's waiting room and at every childcare center, preschool, and early elementary school." -- Joseph J. Sockalosky, M.D., Director of Medical Education, Children's Hospitals and Clinics of Minnesota
"An excellent job getting kids to focus on handwashing, a key building block in overall public health awareness." -- Jerry Bowman, NSF International's Scrub Club Program for Kids
###