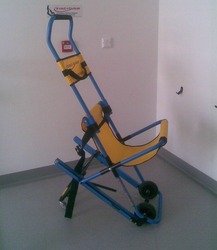 The Evac+Chair's unique construction makes it easy for someone to assist a disabled colleague to safety, and allows first responders and other building occupants to pass by without interference
Lake Success, NY (PRWEB) September 29, 2009
On August 7, 2009 the United States Senate passed a resolution sponsored by New Jersey's senators designating September as Campus Fire Safety Month. In association with this resolution, Evac+Chair North America, LLC is reminding the public and facility managers, landlords and building owners of the importance of having emergency evacuation procedures in place, along with the means to help those needing assistance descend the stairs in an emergency. The company's Evac+Chair, an emergency evacuation chair, was used to rescue several occupants of the Twin Towers following the attacks of 9/11.
"The Evac+Chair's unique construction makes it easy for someone to assist a disabled colleague to safety, and allows first responders and other building occupants to pass by without interference," said Rich Perl, vice president of Evac+Chair North America. Developed in 1982, Evac+Chair ensures a safe egress for those that need assistance getting down stairs such as the disabled, elderly, or those with conditions that make stairway descent difficult. Evac+Chair North America distributes the emergency evacuation chair to hotels, hospitals, schools, high-rise apartment buildings and multi-story office buildings throughout the United States, Canada and Mexico.
The Evac+Chair's narrow profile and lightweight design means it does not interfere with the ascent or descent of emergency responders sharing the stairway. The chair is engineered to move smoothly using a patented continuous rotating V belt that ensures safety and allows the user to control the chair's descent down the stairs with relative ease, regardless of the passenger's size.
Thanks to the Evac+Chair, "More than six occupants were rescued to safety from the Twin Towers on September 11 as the first responders were making their way up the stairs," said Perl. Aside from the observance of Campus Fire Safety Month and the eighth anniversary of the 9/11 attacks in September, Perl noted that October is Fire Safety Month and that all of these occasions serve as important reminders of the necessity of proper evacuation procedures.
"It doesn't take the disaster level of the Twin Towers attack to keep in mind the importance of getting all occupants out of a multi-story building safely," said Perl. Referring to the tragic fire at Seton Hall University in South Orange, New Jersey in 2000, he added that "The Evac+Chair could easily be used on college campuses across the country in dormitories, libraries and academic buildings."
For more information about the Evac+Chair, go to http://www.evac-chair.com or contact Rich Perl of Evac+Chair North America, LLC at (516) 502-4240.
###