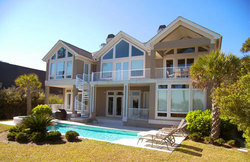 Hilton Head Island, SC (PRWEB) September 25, 2009
Unlike many other beach destinations, the year-round temperate climate on Hilton Head Island keeps the island beaches and activities open any time of year. The balmy winter weather has kept Hilton Head Island one of the top destinations for snowbirds looking for a warm weather escape. With the island's signature activities, golf and tennis, continuing in full force throughout the winter months, there's no shortage of activities and entertainment during the fall and winter on Hilton Head.
ResortQuest Hilton Head Island offers deeply discounted monthly rentals from October through March, a perfect solution for an extended winter vacation. Choose from a selection of over 500 villas and private homes in premier locations, including Palmetto Dunes and Sea Pines. All ResortQuest Hilton Head vacation rentals offer fully-equipped kitchens and all the amenities of home, ideal for an extended stay. They also include immediate access to beaches, tennis, golf and water sports. Hilton Head monthly rentals start as low as $1100 a month* and these discounted rates are available for stays over 28 days. (*Restrictions apply)
In addition to reduced rates for monthly rentals, ResortQuest Hilton Head offers winter travelers a host of other perks, including discounted golf rates, free tennis, free DVD rentals and discounted bike rentals. Palmetto Dunes extends ResortQuest Hilton Head monthly rental guests discounted monthly golf rates of $630 for 30 days of unlimited golf (including cart and green fee) for individuals, or $1050 for 30 days of golf for up to two family members.
Plus, all ResortQuest Hilton Head guests enjoy the benefits of the exclusive ResortQuest Recommends Program which offers deals and discounts on over 160 restaurants, shops and activities year-round. For more information on Hilton Head monthly rentals, visit the ResortQuest Hilton Head website at resortquesthiltonhead.com or call 800-875-8726.
About ResortQuest:
ResortQuest, one of the nation's leading vacation rental hospitality and resort real estate companies, provides a one-stop resource in North America's premier resort destinations. ResortQuest is the largest marketer and management company of vacation condominiums and home rentals in the U.S., based on a portfolio of nearly 10,000 vacation rental properties. With the inclusion of Partner Affiliates in North America and Europe, ResortQuest now offers over 100,000 vacation rental choices in over 140 destinations world-wide. With over a billion in sales, ResortQuest Real Estate is one of the nation's leading real estate companies focusing exclusively on resort properties, offering superior brokerage services in the country's premier beach, ski and golf destinations.
# # #