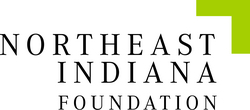 The New-Tech and STEM models are an integral part of the TOpS 2015 initiative and will provide northeast Indiana students with the education and a confidence level that will prepare them for success in high-wage careers
Fort Wayne, Ind. (Vocus) September 24, 2009
The Northeast Indiana Foundation has announced that 16 regional representatives will travel to Texas, September 28-30, 2009 to learn more about the Science, Technology, Engineering and Math(STEM)-focused New Tech educational model in preparation for the implementation of New Tech high schools throughout northeast Indiana. TOpS Director, Leonard Helfrich and Northeast Indiana Foundation Executive Director, Mark Becker will participate in this trip, in partnership with 15 representatives from northeast Indiana K-12 and university institutions.
"Our mission during this trip is to further define STEM- New Tech High School and the specific characteristics of STEM curriculum required in preparation for the implementation of enhancement of STEM education in northeast Indiana," said Helfrich.
The northeast delegation will meet with representatives and tour STEM-focused New Tech high schools in Dallas and Austin, TX, seeking insight that will guide northeast Indiana in defining the STEM-focused New Tech education model. Information regarding professional development for non-New Tech high school teachers will also be discussed in an effort to provide school systems throughout northeast Indiana tools and resources to implement project-based learning environments regardless of whether schools choose to implement the New Tech High School model.
"The New-Tech and STEM models are an integral part of the TOpS 2015 initiative and will provide northeast Indiana students with the education and a confidence level that will prepare them for success in high-wage careers," Helfrich explained.
Northeast Indiana has already welcomed the region's first New Technology High School with the launch of Wayne High School's inaugural school year implementing Science, Technology, Engineering, and Math (STEM) and project-based curriculum. In support of the school's integration of New Tech and STEM education, TOpS 2015 has contributed funding to support Wayne High School's program, and will contribute funding to help establish other New Tech High Schools throughout the region in the coming years.
Implementing STEM-focused New Tech high schools and STEM curriculum in northeast Indiana is a component of the region-wide TOpS 2015 initiative. TOpS 2015 was developed through strategic collaboration among regional business leaders, economic development and government officials, community foundations and representatives from K-12 and higher educational systems and is a cornerstone of a regional economic transformation, providing economic growth opportunities and promoting high quality jobs in northeast Indiana.
TOpS 2015 includes targeted educational and workforce programs for the defense, aerospace and advanced manufacturing industries. Components of the initiative include support for retraining at 1,200 adult workers in northeast Indiana over the next three years; enhancement of the Advanced Manufacturing Program at Ivy Tech - Northeast; expansion of the systems engineering and wireless technology programs at Indiana University-Purdue University-Fort Wayne (IPFW); and, the creation of New Tech High Schools within northeast Indiana school corporations, with an emphasis on science, technology, engineering and mathematics courses as well as professional development in project-based learning for teachers throughout the region.
About the Northeast Indiana Regional Partnership and the Northeast Indiana Foundation: Created in 2006, the Northeast Indiana Regional Partnership's mission is to market the ten-county region and team with local economic development organizations (LEDOs) to bring new jobs and business investment to the area. The Northeast Indiana Foundation's mission is to support the Northeast Indiana Regional Partnership and its member counties through the funding and coordination of charitable activities which directly contribute to its mission of facilitating the creation of new business investment and high quality jobs for the region.
About the Community Foundation of Greater Fort Wayne: Established in 1956, the Community Foundation of Greater Fort Wayne is a public, charitable foundation serving Allen County for more than fifty years. The Community Foundation had assets of $74 million at December 31, 2008, and awarded more than $5.6 million in charitable grants and scholarships in that year.
###