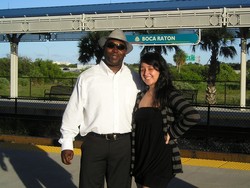 Boca Raton, FL (PRWEB) September 24, 2009
Chatt Gifts, Inc. announces the release of the first music video by their Chatt Girls band. The Chatt Girls choose a Curtis Mayfield, gospel inspired song, People Get Ready to demonstrate the company's sponsorship of the Smile Train Organization. Lead singer Sandra Washio, the 16 year old daughter of company President Greg Washio, is joined by Leo Tanksley. Their voices create a soulful rendition of the classic song which can be viewed at http://www.youtube.com/ChattGifts.
The storyline starts with a Palm Beach Sheriff Deputy arguing with his wayward daughter at a Boca Raton train station. When the train arrives, she abruptly boards and takes a seat. As she gazes out the window, we see a progression of her religious milestones and recent missteps. Next, we view a series of those who have fallen including Bennie Madoff, Scott Peterson, Bernard Ebbers, OJ Simpson, and Dennis Kozlowski. During the final verse, we witness the transformation of a cleft child by a Smile Train operation.
As the name implies, Chatt Gifts, Inc. sells gift items under the Chatt brand name at http://www.ChattGifts.com. The main product line is purse hooks (also known as a purse hanger, purse holder, handbag hook, handbag hanger and handbag hanger). A purse hook works on gravity to easily hold any handbag under a table or counter top for convenience, security and to keep it off a dirty floor. Purse hooks allow women to reduce clutter, stop worrying about a purse snatcher and avoid picking up germs. The company also sells key finders which are aka Finders Key Purse.
The Smile Train organization provides free operations to children with cleft lip and palate. Clefts are a major problem in developing countries where there are millions of children suffering with unrepaired clefts. Most cannot eat or speak properly. Cleft children are not allowed to attend school or hold a job. Most face lives filled with shame, isolation, and heartache. The good news is every single child with a cleft can be helped with surgery that costs as little as $250 and takes as little as 45 minutes. The Smile Train also train doctors and medical professionals for the same purpose.
The late Curtis Mayfield wrote the gospel inspired song People Get Ready in 1964.
###