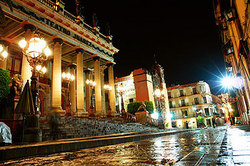 Our online visitors now have the option to discover and explore the capital city of Guanajuato
San Miguel de Allende, Mexico (PRWEB) September 25, 2009
Live on the web this month, Explore & Go Mexico's Guanajuato City Guide extends the reach of the site's services by reaching a broader audience, in both English and Spanish. The new city guide features expanded content including a guide to the 2009 Festival International Cervantino.
"Our online visitors now have the option to discover and explore the capital city of Guanajuato," says Shari Reynolds, editor and co-founder of the site. "In the same way we built the popular San Miguel de Allende City Guide, we will focus on Guanajuato, uncovering the hidden treasures this colonial city offers to visitors."
Visitors to the Guanajuato Hotel Guide will have access to online hotel reservation systems provided by Expedia and Hotels.com making it easier than ever to travel to the city of Guanajuato. The guide includes information about hotels, restaurants and activities for visitors to the city of Guanajuato.
Festival Internacional Cervantino
The Guanajuato City Guide was developed and launched in both English and Spanish with an emphasis on English-speakers who are traveling to Guanajuato for the Festival Internacional Cervantino. The handy guide includes recommendations for events during the week, venue information including recommendations for hotels and restaurants near event venues and ticket information.
"The Guanajuato Tourism Office was extremely helpful during the planning and designing process, providing useful information for our design and development team," says Oscar Montes, Director of Sales for Explore & Go Mexico.
Access the Festival Internacional Cervantino Guide online at http://www.exploreandgomexico.com/guanajuato/cervantino.
Guanajuato Top 10 Guide
Site visitors can vote on their favorites in Guanajuato in ten categories including restaurants, hotels, music, nightlife, museums/activities, shopping, best margarita and more. Voting ends November 30, 2009 and the results will be posted in December, 2009 on the site.
Access the Guanajuato Guide on the Web at http://www.exploreandgomexico.com/guanajuato
About Explore & Go Mexico:
Explore & Go Mexico is a online travel guide focusing on intimate tourist destinations in Mexico like San Miguel de Allende.
# # #