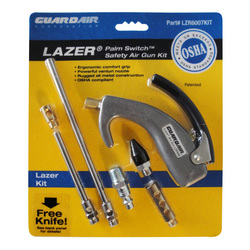 Chicopee, MA (PRWEB) September 24, 2009
Guardair Corporation has introduced the new Lazer 600 and Lazer 650 Safety Air Gun Kits. Featuring patented palm-switch and pistol-grip style designs, Lazer Safety Air Guns provide superior comfort and ergonomics. Fitting any size hand, Lazer Safety Air Guns incorporate a convenient, integrated hanging hook for easy storage and retrieval.
Each seven piece kit comes complete with Lazer Safety Air Gun, 1/4'' NPT Industrial Interchange Connector, and five interchangeable nozzles including Venturi, Rubber-Tip, Booster, 3" Venturi Extension, and 6" Venturi Extension.
Perfect for all types of industrial cleaning applications, the acclaimed LAZER Safety Air Guns meet OSHA Standards regarding output pressure.
For over half a century, Guardair has manufactured safety air guns, syphon spray guns, pneumatic vacuums, and accessories for the industrial MRO (Maintenance, Repair, and Operations) marketplace. Millions of Guardair products are used in a wide range of industrial and commercial applications including food processing, metalworking, pulp and paper, textiles, transportation, and construction. Guardair developed the world's first safety air gun and during the 1970's collaborated with OSHA to write safety regulations for air gun usage. All Guardair products meet OSHA standards and incorporate unique design features to maximize operator productivity and safety.
Guardair is a highly recognized brand within the industrial MRO marketplace and has become synonymous with high-quality products and customer service. Guardair products are sold through a world-wide network of over 2,000 industrial and safety distributors including McMaster-Carr, W.W. Grainger, MSC Industrial, Lab Safety Supply, and Fastenal.
###