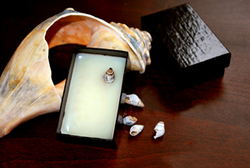 We are excited to bring simple ingredients back that our grandparents used. Everyone should be able to read an ingredient list without mystery chemicals
Alexandria, VA (PRWEB) September 24, 2009
Truly-Life, the eco friendly gift company, introduced their new Lilac Breeze solid perfume product line today. The solid perfume is made of natural elements and packaged in an eco friendly black box that can be composted when it is empty. Women on-the-go can smell good and save the planet.
Solid perfumes are back in style. Truly-Life has created a simple clean scent, Lilac Breeze, reminiscent of the roaring twenties. The moisturizing perfume is smooth and a delight to rub on your wrist or neck. Synthetic chemical concoctions are a thing of the past. It contains zero percent alcohol, paraben, and colorant - this solid perfume base is made from raw beeswax and sweet almond oil. It is refreshing to have a small sophisticated container that travels well, even on the plane. This solid perfume is convenient and easy to drop into every purse.
"We are excited to bring simple ingredients back that our grandparents used. Everyone should be able to read an ingredient list without mystery chemicals," said Mellenie Runion, Truly-Life proprietor. "We spent a lot of time finding an eco friendly container for our solid perfume, and it was well worth the wait. We do not want to over-package items as if it were meant to survive the apocalypse. Plastic, tin, and glass are great containers, but the bottom line is they get tossed in regular trash, which goes to the landfills and impacts our water supply. It is certainly more difficult to find alternatives packages, but we are making a difference, and hopefully making people think twice."
Available at http://www.truly-life.com/News/__solidperfume__.html online store
Available at Art on the Avenue festival in Alexandria, October 3, 2009
Available at A Show of Hands store in Alexandria
About Us
Since 2008, Truly-Life continues to expand the line of Virginia handmade, eco friendly soaps, photo cards, and wooden heirloom gifts made from organic and natural materials. These thoughtful gifts are mindful of the planet and free of plastic. All items at Truly-Life are packaged in biodegradable containers that can be composted. From start to finish, Truly-Life is redefining their impact on the environment, including bicycle delivery for neighborhood orders. Handmade natural Virginia gifts available at http://www.truly-life.com
###