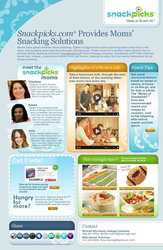 Battle Creek, MI (PRWEB) September 28, 2009
When mom considers snack choices for a fall tailgate or child's birthday party, Snackpicks.com® from Kellogg Company has her answers.
Given that moms are looking for brands that provide solutions to the everyday stresses, the redesigned Web site provides even more recipes and snacking and occasion-based tips from the "Moms of SnackPicks™" blogging contributors.
Snackpicks.com® boasts other engaging content to keep moms coming back, including a new Web video series titled "Highlights of a Mom's Life." The four-segment video series features the Carson family, including mother Kate, in various funny snacking dilemmas - something all moms can relate to. From the competitive tailgate party, the last-minute birthday party and prepping for the big game, Kate shows the challenging moments moms face every day.
A collection of games, downloads and promotions, including coupons, makes Snackpicks.com® a fun and useful destination for all things snacks.
Some of the Kellogg snack brands featured on Snackpicks.com® include:

Cheez-It® snack crackers
Keebler® cookies and crackers
Nutri-Grain® Cereal Bars
Famous Amos® Chocolate Chip Cookies
KELLOGG'S FiberPlus™ Snack Bars
About Kellogg Company:
With 2008 sales of nearly $13 billion, Kellogg Company is the world's leading producer of cereal and a leading producer of convenience foods, including cookies, crackers, toaster pastries, cereal bars, fruit-flavored snacks, frozen waffles and veggie foods. The Company's brands include Kellogg's®, Keebler®, Pop-Tarts®, Eggo®, Cheez-It®, All-Bran®, Mini-Wheats®, Nutri-Grain®, Rice Krispies®, Special K®, Chips Deluxe®, Famous Amos®, Sandies®, Bear Naked®, Kashi®, MorningStar Farms®, Gardenburger® and Stretch Island®. Kellogg products are manufactured in 19 countries and marketed in more than 180 countries. For more information, visit http://www.kelloggcompany.com. Kellogg Company's Corporate Responsibility report including its approach, progress and future direction in the marketplace, workplace, environment and community can be found at http://www.kelloggcompany.com/CR. For information on Kellogg Company's commitment to nutrition, visit http://www.kelloggsnutrition.com.
# # #