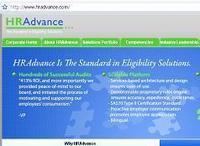 We started with a mission to develop hosted solutions that improved HR and benefits
Dallas, TX (PRWEB) September 25, 2009
HRAdvance has launched its improved corporate website at http://www.hradvance.com in response to the significant market demand for health plan cost containment and fully hosted dependent eligibility audit solutions.
Over the past 36 months the demand for dependent eligibility audit solutions has dramatically increased with more than 75% of large organizations having evaluated a dependent eligibility audit to ensure fiduciary compliance and reduce costs. In 2005, fewer than 25% of large organizations had adopted or considered dependent eligibility audits. Moreover, economic pressures are causing mid-market enterprises, government and public municipalities as well as educational institutions to explore the cost benefits of dependent eligibility audit savings.
While HRAdvance is the industry standard for dependent eligibility audits with higher returns and a deeper track-record with multiple vertical depth, HRAdvance's technology solutions platform has enabled the company to offer a suite of health plan cost containment solutions which are available via HRAdvance.com.
On HRAdvance.com, visitors will find information about the benefits of HRAdvance's approach to empowering human resource and benefit professionals. Specifically, visitors will find information on HRAdvance's technology-enabled business solutions that:

Improve the fiscal wellness of employer health plans
Mitigate employer risks (fiduciary, regulatory, tax compliance, and litigation risk management)
Streamline and minimize traditional administrative processes
Enable managers to make informed management decisions through web-based tools and intelligence portals.
"We started with a mission to develop hosted solutions that improved HR and benefits," said Craig Firestone, founder and president of HRAdvance Enterprises, LLC. "Amazingly, in this economy we are experiencing record growth of our core Plan-Smart™ and Plan-Guard™ business and we continue to drive the market forward through new innovations."
About HRAdvance:
HRAdvance was founded in 2004 with a narrow mission in mind: to provide HR and benefit professionals with best-of-breed hosted solutions that can be deployed without capital expenditure or IT dependency. HRAdvance's Guiding Principle: We believe that employees are the most valuable asset of virtually every organization.
HRAdvance's core competency is Plan-Smart™ and Plan-Guard™ dependent eligibility audit and verification services. With more than 150 clients that range in size from 500 to more than 100,000 employee lives, HRAdvance is the best-in-class dependent eligibility audit solution. HRAdvance's management competencies and healthcare focus reflect over 150 years combined experience in developing automated human resource, benefits, administrative and financial solutions for government, public and private organizations. Visit http://www.hradvance.com to learn more.
Contact:
HRAdvance
Braddon White, 214-965-5809
bwhite (at) hradvance (dot) com
This press release was distributed through eMediawire by Human Resources Marketer (HR Marketer: http://www.HRmarketer.com) on behalf of the company listed above.