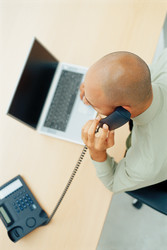 Our head office has been running on Fonality's technology for years
Atlanta, GA (PRWEB) September 25, 2009
Computer Troubleshooters, with nearly 500 offices in 25 countries providing computer and technology solutions to small-business owners, today announced a strategic partnership with Fonality to offer hosted and Hybrid-HostedTM business phone system solutions. CT franchisees will have access to a wealth of resources from Fonality, from sales and marketing materials to technical education and certifications.
Fonality's fully-hosted PBX solution, UNBOUND, offers small to medium sized businesses an advanced phone system and business phone service without a costly upfront investment. UNBOUND is scalable for companies as they grow, does not require a contract, and includes a user-friendly web interface as well as 24/7 technical support and system monitoring. With UNBOUND, customers gain unlimited local and long distance calling to virtually any telephone number in the United States, Canada, Puerto Rico, Guam, US Virgin Islands, France, Ireland, Italy, Spain, and the United Kingdom, as well as discounted calling to other locations worldwide. UNBOUND customers also receive free extension-to-extension calling as well as calling to and from any other UNBOUND customer.
PBXtra, Fonality's Hybrid-Hosted IP-PBX, adds a premise-based server to provide rock-solid PSTN connectivity, in addition to advanced features such as call queues, Auto-Attendant, conference bridges, FindMe®, and complete data privacy for an affordable small business price. Fonality's Hybrid-Hosted architecture provides telecommuter and branch office support, system monitoring, automated configuration backups, and simplified management. Finally, when coupled with HUD, Fonality's award-winning application that enables real-time call control at the desktop, businesses also take advantage of Unified Communications capabilities such as instant messaging, presence and employee status, click-to-call, CRM integration, and contact center queue management.
"Our head office has been running on Fonality's technology for years" said Chip Reaves, CEO of Computer Troubleshooters Global. "So as our small business customers increasingly started requesting the features and flexibility of a VoIP-based telephony platform, we knew first-hand how effective the Fonality PBXtra platform would be for them. We're thrilled to partner with Fonality because we know our clients are going to be thrilled with their solutions."
"Computer Troubleshooters is committed to delivering their customers advanced technology solutions," said Chris Vuillaume, SVP of Sales at Fonality. "We're delighted to have the experts at CT as our partners and look forward to helping them bring affordable business phone systems to their customers."
Products and Technology
Fonality's phone system allows companies with up to 500 employees per location to scale from a single-site business with basic telephony needs to a multinational corporation with distributed call centers. In addition to traditional PSTN dialing and PBX features, Fonality also includes conference calling, unified messaging with voicemail and email, employee presence management, an embedded corporate chat server, advanced call center features, and the ability to integrate with Microsoft Outlook, Google, and Salesforce.com.
About Fonality
Fonality, the number one commercial grade vendor of open-source IP phone systems, uses its Hybrid Hosted™ approach and Anywhere Management™ architecture to create the reliability and quality of a premise-based system with the convenience and cost benefits of a hosted system. Fonality also offers a fully hosted business phone system. Founded in 2004 and headquartered in Culver City, Calif., the company has over 44,000 systems deployed worldwide. Investors include Draper Fisher Jurvetson, Intel Capital, and Azure Capital Partners. More information can be found at Fonality.com.
About Computer Troubleshooters
Computer Troubleshooters provides a full range of computer and technology solutions to small-business owners and private home users. Computer Troubleshooters specialists are fully trained and are experts at diagnosing a broad range of computer and technology challenges. Launched in 1999, Computer Troubleshooters now has more than 450 franchises worldwide, including more than 200 in the United States and Canada and the remainder spanning 23 countries, including Egypt, Greece, Romania, South Africa, the United Kingdom, Kuwait, Spain and Australia, where the company was founded by Wilson and Suzanne McOrist. Computer Troubleshooters USA was named the top tech support business franchise company in 2007 by Entrepreneur magazine in its annual Franchise 500 rankings, and is ranked in the top 10 franchise systems by Franchise Business Review. Computer Troubleshooters
###