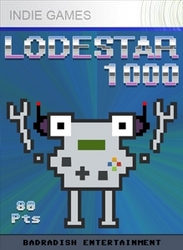 The term 'sounds' doesn't do it justice
Seattle, WA (PRWEB) September 24, 2009
BadRadish Entertainment, the leading developer and publisher of games made for Mr. Radish, today announced the game Lodestar 1000, a challenging mind game suitable for all ages. Conceived and ordered by Mr. Radish, senior top executive, future game god and present day ninja at BadRadish's Seattle studio, Lodestar 1000 pits you against a very lovable, but serious robot who will unleash legions of button presses on the Xbox controller. To keep up, you must remember how to press the same sequence of buttons. This starts off easy, but as you level up Lodestar will start using distinctively different parts of the Xbox controller. This daunting task is fun because each zone on the controller features a unique array of sounds.
"The term 'sounds' doesn't do it justice", says Mr. Radish. "Each of those lovely aural delicacies stake out their own sonic space and are sampled from a Commodore 64. They taste pretty on your ears"
The Lodestar 1000 art direction is guided by memories of the Commodore 64 and other classic systems. All graphics, sounds and music are 8-bit or 8-bit inspired. The idea came from lead and sole developer, Ivona Kaczynski, who grew up with a Commodore 64 computer at home. Great care was taken, pixel by pixel, to create Lodestar's blocky animations.
"You should tell them more about the music", says Mr. Radish. "The music in the game is great, but especially cool is the in-game music because it gets layered dynamically as you level up with the robot."
Yes, the music gets layered dynamically. Lodestar 1000 was developed using the Microsoft XNA framework and will be launching on Xbox Live Indie Games in mid October 2009. It will have a street price of 80 Microsoft Points, equivalent to 1 US dollar.
Features of Lodestar 1000 include:

Lovable Lodestar Robot
Classic Simon gameplay enhanced by innovative use
of the Xbox controller

8 bit sound effects sampled a Commodore 64 SID chip
Soundtrack features original chiptunes
In-game music is layered dynamically
Features voice by notable voice talent, John J Dick,
the voice of "Sam" in the popular PC game, "Serious Sam"
About BadRadish Entertainment:
BadRadish Entertainment is the leading developer and publisher of games made for Mr. Radish. BadRadish games are noted for being fun, easy to learn, interesting curiosities that appeal to everyone aged 8 to 80, but excluding age 42. BadRadish does not make games for people aged 42. And really, while it stops at 80, it starts back up again at age 87. Based in the Seattle, Washington area, BadRadish Entertainment was founded in 2008 and has a worldwide staff of less than 100.
About Microsoft XNA:
Microsoft XNA (Xbox New Architecture) is a set of tools with a managed runtime environment provided by Microsoft that facilitates computer game development and management. XNA attempts to free game developers from writing "repetitive boilerplate code" and bring different aspects of game production into a single system. The XNA toolset was announced March 24, 2004, at the Game Developers Conference in San Jose, California.
About Xbox Live Indie Games:
Xbox Live Indie Games are video games released on Microsoft's Xbox Live Marketplace for the Xbox 360. The games are developed using Microsoft XNA, and developed by one or more independent developers that are part of the "XNA Creators Club". Unlike other Xbox Live Arcade titles, these are generally only tested within the local creator community, have much lower costs of production, and generally are less expensive to purchase than other Xbox Live Arcade titles. The service was released to widespread use alongside the New Xbox Experience, and since then, over 330 games have been released on the service, many receiving media attention.
About Microsoft Points:
Microsoft Points are the currency of the Xbox Live Marketplace, Games for Windows - Live Marketplace, Windows Live Gallery and Zune online stores. The points allow users to purchase content without a credit card. 80 points is equivalent to 1 US dollar.
Company and product names may be trademarks of their respective owners and are used for the benefit of those owners. For more information, or to arrange interviews with Mr. Radish, Lodestar or Ivona Kaczynski please contact us via email or visit our press room here.
###